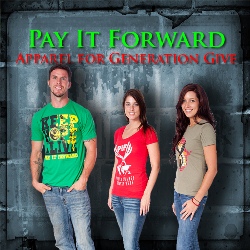 Acting as a fundraising support system allows our non-profits partners to focus more time on their mission and less time worrying about where funding is coming from. - PIF Founder, Matthew Moses
Columbus, OH (PRWEB) May 30, 2013
Pay It Forward (PIF) Apparel is working to help stop the senseless slaughter of wildlife throughout the world's oceans by raising money for Sea Shepherd. PIF customers, otherwise known as 'Generation Give', purchase shirts that raise money and awareness for the innocent wildlife that are being illegally slaughtered by pirates. 25% of every sale is then donated to the customer's favorite charity.
On the surface, Pay It Forward's business model is similar to many other socially minded firms that have been showing up over the past few years. However, once customers begin to scratch the surface they find a company that is committed to educating its customers, supporting the non-profits it represents, and doing something that no other socially minded firms are doing: giving the customer the choice of who to support. At any one point in time customers have the opportunity to support more than twelve different charities, all with varying causes and missions.
"Our goal was to develop a model that uses fashion to get the attention of our customers; once they become interested in what we have to sell we try to shift their attention to the non-profits that we partner with. Ultimately our purpose is to help raise money and awareness for the causes that we represent. Acting as a fundraising support system allows our non-profits partners to focus more time on their mission and less time worrying about where funding is coming from," says PIF founder Matthew Moses.
The company also has a unique way to ensure that they money being raised is being used responsibly once it is donated. PIF only partners with charities that have an exceptional financial rating with Charity Navigator, the nation's largest non-profit evaluator. In other words, charities featured through PIF apparel have been screened to make sure that the highest percentage of donations are being used to support the cause being promoted. Because of this, PIF customers can feel more comfortable knowing that their money is being put to good use for the cause, rather than a marketing campaign or expensive event.
Pay it Forward's shirts are printed in the U.S. and each design idea has been created by a member of the PIF team to help represent the company's philosophy of paying it forward, acts of kindness, and positivity. Like many online retailers, PIF relies on its small community to spread the word about the brand which is still relatively small but has gotten exceptional reviews by existing customers.
It is clear that owning a PIF product goes much deeper than the typical t-shirt purchase; customers are actually using their purchase to make a real difference. What makes this story even sweeter is the fact that you can purchase PIF shirts for the same price as most tees found at the mall. The quality is great, the designs are great, and the customers are making a difference.