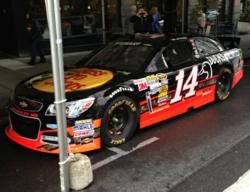 Johnny Morris and Bass Pro Shops have always been great partners [to DU], and their generosity never ceases to amaze me.
MEMPHIS, TN (PRWEB) May 29, 2013
Ducks Unlimited will visit the top two NASCAR superspeedways in the coming months thanks to a new partnership with Bass Pro Shops. The No. 14 Sprint Cup Series car driven by Tony Stewart will race under the lights at Daytona International Speedway on July 6 and the No. 3 Camping World Truck Series truck driven by Ty Dillon will race at Talladega Superspeedway on Oct. 19. Both vehicles will have DU logos displayed prominently for their respective races.
The special logo wraps came as a surprise during Bass Pro founder John L. Morris' speech to convention-goers last week in Portland, Ore.
"Johnny Morris and Bass Pro Shops have always been great partners, and their generosity never ceases to amaze me," said DU CEO Dale Hall. "The fact that they support DU's mission speaks volumes about the company and their commitment to conservation."
Along with the onetime logo wraps on the vehicles, Morris also presented a $76,000 check to congratulate DU on 76 years of conservation work.
The convention festivities didn't end there, however. Those in attendance for the one-day business session were treated to speeches from Secretary of the Interior Sally Jewell and Portland resident and Columbia Sportswear CEO Tim Boyle. Convention-goers also witnessed a changing of the guard with the election of a new president and other board of directors' members.
"The Ducks Unlimited National Convention is always a great opportunity to hear from some of the most influential people in the conservation arena," Hall said. "The convention also allows our hard-working volunteers from across the country an opportunity to visit with other DU members whom they may not see but once a year. It's a magnificent time of camaraderie."
For more information about the convention, visit http://www.ducks.org.
Ducks Unlimited Inc. is the world's largest non-profit organization dedicated to conserving North America's continually disappearing waterfowl habitats. Established in 1937, Ducks Unlimited has conserved more than 13 million acres thanks to contributions from more than a million supporters across the continent. Guided by science and dedicated to program efficiency, DU works toward the vision of wetlands sufficient to fill the skies with waterfowl today, tomorrow and forever. For more information on our work, visit http://www.ducks.org. Connect with us on our Facebook page at facebook.com/DucksUnlimited, follow our tweets at twitter.com/DucksUnlimited and watch DU videos at youtube.com/DucksUnlimitedInc.