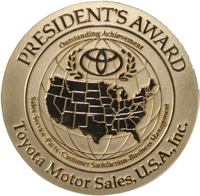 Orem, UT (PRWEB) May 29, 2013
Brent Brown Toyota of Orem, Utah is proud to announce that they are recipients of Toyota Motor Sales' coveted President's Award for 2012. The President's Award is reserved for those dealerships that demonstrate not only a commitment to offering top quality vehicles, but a commitment to providing the highest standards of customer satisfaction as well. Brent Brown Toyota operates under Toyota's primary goal, which is to emphasize on the ownership experience as a whole, not just the short time that a customer spends at the dealership purchasing their new or used car, truck or SUV.
The President's Award is given to those dealerships that excel in a number of areas of customer satisfaction including Sales and Service. The award is not given for one particular component of how a dealership operates, but how these components work together as a whole. This is not the first award received this year by Brent Brown Toyota from Toyota Motor Sales. Earlier this year they were named both the #1 Avalon and #1 Tundra dealer in the state of Utah. They also received the #1 Service Department Customer Service award. All of these awards in addition to the President's Award are what has helped Brent Brown Toyota earn its premier dealership status in the Utah area.
Brent Brown Toyota wants to change how consumers feel about purchasing and owning a vehicle, and ensure that they will make the entire process pleasant and stress-free. The car buying experience with Brent Brown Toyota, unlike most dealerships, does not end when the customer leaves with their new car, truck or SUV; it is the start of the complete ownership experience. For more information on the great products and services provided by Brent Brown Toyota, please visit their website at BrentBrownToyota.com or reach them by phone at 801-224-1320.