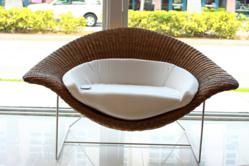 Combiners of inspiration, design, and craftsmanship
Miami, FL (PRWEB) May 31, 2013
Furniture Miami store, combiners of inspiration, design, and craftsmanship, Saccaro is proud to be associated with these beautiful prize-winning pieces designed by the renowned furniture master Indio Da Costa Audt. The Arraia chair is inspired by the form and motion of a Stingray. The elegant design won the "Premio Ideia/Brasil" award, given by the national edition of the largest design prize in the United States - and now it can conquer a spot in your home by purchasing this collection at one of Saccaro's furniture stores in Miami.
The Arraia chair is handcrafted in high quality Malacca and stainless steel. The quality of design, craftsmanship, and materials ensure the excellence of the Saccaro brand.
ABOUT THE DESIGNER - Guto Indio da Costa
Designing for over 20 years now, Guto and his team at AUDT Studios have achieved international recognition through their many innovative design projects. Now this award winning Arraia chair is one their masterpieces designed exclusively for Saccaro.
Saccaro is a wonderful success story of family tradition and old-world skill that has resulted in international respect and popularity. Saccaro stands for respecting the forests, the ecology, and the workers who help to build their unique collection of products. Saccaro is guided by the ancient Italian tradition of handicraft, manufacturing from wicker baskets began 65 years ago by Albino Saccaro. He was inspired to develop the company's products with great care and respect for craftsmanship. After starting in the city of Caxias do Sul in the southernmost state of Brazil, Rio Grande do Sul, Saccaro now manufactures indoor and outdoor furniture and decorative accessories. The company operates today in 25 countries with a network of 70 stores and hundreds of hospitality projects around the globe. As well as offering their products in their stores, Saccaro offers a full catalog of their collections on their beautifully designed website, created by Miami web design company, NetroStar.
Saccaro works with award-winning designers working in conjunction with superb craftsmanship, innovation, materials and techniques. These design masters bring us stunning and unique pieces of work. Quoting some of the designers Saccaro is a "designer's paradise" as it allows the artists to reach the top of their creative skills.
The green principles of sustainability and renewal are important to Saccaro. The use of materials such as banana fiber, wicker, bamboo and eucalyptus and fast growing species in a controlled temperate forest assure 30 times more productivity. The process uses virtually every portion of the log, converting it to lumber and other usable by-products.
A variety of customized finishes as well as a large assortment of products can meet the most demanding requirements. Come visit our store and let our uniqueness into your life.