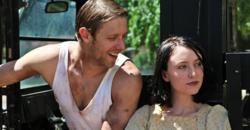 Los Angeles, CA (PRWEB) May 30, 2013
NewFilmmakers LA Film Festival presents a dynamic program of short films and socially and culturally relevant documentaries during their June 8th program at the AT&T Center in Downtown LA. From a historic music venue roamed by Henry Rollins, BB King, and Alice Cooper in Detroit, MI, to international short films from Zambia and China, to Hollywood video store Rocket Video, a cult favorite among local cinema enthusiasts, featured in a short documentary as its owner struggles to keep doors open during a new digital age. Over the course of the evening, a stylish Cinema Lounge reception offers an opportunity to sip a cocktail while networking with filmmakers, and an outdoor patio lounge to chat with friends new and old while enjoying tunes spun by an LA based DJ.
A champion of independent cinema, NewFilmmakers LA Film Fest has served as host to a bevy of emerging filmmakers over the years. Director Choice Skinner, whose film Brotherly Love screened at NewFilmmakers LA in December of 2011, recently won 1st Place in the Octavia Spencer Facebook Short Film contest with his short A Second Thought. Shot entirely on an iPhone, Skinner co-produced the short with his Brotherly Love co-star Farley Jackson. A Second Thought premiered at the 2013 SoHo International Film Festival.
Films screening during the NewFilmmakers LA June program include:
Louder Than Love (Dir. Tony D'Annunzio / USA) - Louder Than Love is the greatest untold story in Rock & Roll history as revealed by the musicians, artists, and people that lived it. While the West Coast was groovin' to the sounds of the "Summer of Love" in 1967, Detroit was pumping out a hard-driving, gritty, raw sound that was "Louder Than Love." The Grande Ballroom stood as the epicenter of the Detroit rock music scene in the late '60s. Serving as the starting point for bands such as MC5, Iggy & The Stooges, Ted Nugent & The Amboy Dukes, The Grande Ballroom not only influenced local Detroit musicians but inspired bands from all over the U.S. and Great Britain. Legendary acts like Led Zeppelin, Cream, B.B. King, Janis Joplin, Pink Floyd, and The Who graced The Grande Ballroom main stage on a regular basis.
The untold story of the Grande Ballroom in Detroit and its effect on the world of rock music, Director Tony D'Annunzio pulls together interviews in this documentary film from musical icons including The Who's Roger Daltrey, Rage Against the Machine's Tom Morello, Alice Cooper, Slash, BB King, Ted Nugent, and more.
A Night at the Office (Dir. Eric Eppinger / USA) - Overachiever Annie and slacker Henry encounter an unusual office visitor while working late at their office one night.
Eric Eppinger makes his directorial debut with A Night at the Office, starring Cameron Goodman (NCIS: Los Angeles, 90210) and Jamie Elman (Wreck-It Ralph, The Chicago 8).
Skinny Jo (Dir. Julia Tasker / USA) - In dire need of marijuana to treat her mother's epilepsy, Skinny Jo must scrape together the money needed to pay the Choctaw medicine man for the herb. Along the way she runs into Billy, a beau, and elicits his help in an attempt to keep him from a life of bootlegging.
Julia Tasker directs Skinny Jo as her thesis film for the AFI Conservatory filmmaking program. A graduate of UNC-Wilmington with a BA in Film Studies, Tasker got her start by working as a script supervisor for feature films including the upcoming White House Down, Parental Guidance, Cabin Fever 2, and Talledega Nights starring Will Ferrell.
Alma (Dir. Brennan Vance / USA) - LA Premiere. Suspecting her husband is trapped in an out-of-body experience, Alma reaches out to her estranged step-son for help.
ANGST (Dir. Nunzio Fazio / Zambia) - Angst tells the story of two lovers deeply connected yet mired in games that test the limits of their affection. Will emotional manipulation and exploitation destroy their relationship or will the strength of their bond endure?
Dimensions (Dir. Neysan Sobhani / China) - Exploring the concept of the dimensions we occupy through the brief, yet intense, experience of two young individuals, we ask how deep are the bonds that tie? How tenuous are our emotional attachments, our sense of purpose, our motivations, that drive our feelings of joy and grief? This film seeks to spark discussion and ideas, not knowing where it may lead for each viewer, of whether loss is truly loss, permanence is truly permanent and whether the cords that are embedded in the fabric of our 'life' are in fact illimitable.
Last Days of the Video Store (Dir. Quin O'Brien / USA) - A light documentary look at the fast decline of brick and mortar video stores in a new digital world. We follow Jeff Miller, a veteran video store clerk and connoisseur of independent films as he tries to keep Rocket Video alive and open for business.
Night of the Killer (Dir. Armin Siljkovic / USA) - A chain-smoking security guard slacks off on his job until a mysterious figure breaches the apartment building he's supposed to protect.
Supervised (Dir. Rick Glenn, Niles Heckman / USA) - In the near-future Sepulcher Industries is the world leader in RFID chip implantation worldwide. But something has gone terribly wrong; the chips are exploding, killing the design team one by one. Two remaining men desperately fend off the 'Shutdown' signal, clinging to the hope that someone must be sending help. But if everyone has a chip, who will be left to save them?
Sweet, Sweet Country (Dir. Dehanza Rogers / USA) - Living in a small Southern town, 20 year-old refugee Ndizeye struggles to support not only herself, but the family she left behind in a Kenyan refugee camp. Her struggle becomes so much more when her family literally shows up at her doorstep.
AT&T Center is the Presenting Venue Sponsor of NewFilmmakers Los Angeles. Producer's Circle Sponsors include SAG-AFTRA and Wells Fargo. For more information and to purchase tickets for the NewFilmmakers LA Film Festival on June 8th, 2013, please visit http://www.newfilmmakersla.com. Submissions are currently being accepted for future screening consideration.