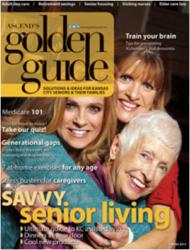 Our mission with our magazine is to provide Kansas City Baby Boomers with the information and resources they may need to help the seniors in their lives. — Rhonda Wickham, editor-in-chief of Ascend's Golden Guide
Overland Park, KS (PRWEB) May 29, 2013
Ascend Integrated Media is pleased to announce that it has launched its premiere issue of Ascend's Golden Guide, the cornerstone of its multichannel brand dedicated to providing solutions and ideas to Baby Boomers and the seniors in their lives. The 80-page issue provides a range of articles and features, including a compendium of information about Kansas City assisted living, advice for unique senior situations, tips for fitness for life, trends that Baby Boomers are igniting, how to select elder care attorneys, and critical information about day care for adults, long-term care insurance and Medicare basics.
"Our mission with our magazine is to provide Kansas City Baby Boomers with the information and resources they may need to help the seniors in their lives," said Rhonda Wickham, editor-in-chief of Ascend's Golden Guide and vice president of content at Ascend Integrated Media. "Being Boomers ourselves, we know that we digest information in different ways depending on where we are and what we are doing. That is why Ascend planned from the beginning to deliver this brand across print, digital, mobile and tablet with a healthy dose of social media."
Ascend is distributing this issue of the magazine, which is free to the public, to more than 300 locations around the metropolitan Kansas City area.
Ascend published more than 35,000 copies for its distribution points, which include 62 area CVS pharmacies, 12 Kmarts and three Sears locations as well as nearly 225 libraries, community centers, hospitals, home health care supply stores and service organizations for seniors.
"The fact that we have secured this many distribution points throughout Kansas City underscores our commitment to this product," said Cam Bishop, CEO of Ascend Integrated Media.
"A number of my colleagues and I have needed information quickly to help our aging parents. Unfortunately, we were usually responding to a health crisis and needed the information immediately. Although there are numerous options in the Kansas City area, there is no central resource for finding that information and the companies quickly and easily."
Ascend's Golden Guide and its online companion directory are intended to provide that resource. Along with providing complete contact information for companies offering products and services for seniors, we are offering comparative information, reviews, expert advice and directional resources.
"The print issue is the second element in our multichannel approach of getting valuable information into the hands of our audience. Besides the print issue, online resource guide and mobile-enabled website, our tablet issue is now available in the iTunes store," Wickham said.
"Our feedback from the Kansas City community of Baby Boomers has been gratifying; it has completely validated all of our instincts and research. This is a product that is very much needed," Bishop said. "We plan two more issues of the print publication in 2013, one in September and the other in December."
About Ascend Integrated Media: Ascend Integrated Media LLC is a custom media and marketing agency that specializes in custom publishing, trade show and event publishing, custom content creation and content integration. With headquarters in Overland Park, KS, the agency, winner of 49 national awards in the last three years, celebrated its 30th anniversary last year.
Ascend Integrated Media is uniquely positioned to work with associations, nonprofits, government agencies and companies to develop and produce brand-enhancing communications products. The company engages on behalf of the client to create, produce and distribute print, digital and mobile content associated with marketing, branding and social media initiatives. Ascend's suite of fully integrated products and services includes print and digital magazine publishing, newspaper publishing, newsletters and eNewsletters, membership directories, product buyers guides, exhibit guiders, city guides, maps, annual reports, hotel door-drop services, advertising/sponsorship/exhibit sales representation, patient education information, website design and management, smartphone mobile app development, iPad/tablet publishing as well as social media account management, targeted text/SMS services and QR code programs. Visit http://www.ascendintegratedmedia.com to view Ascend's portfolio.