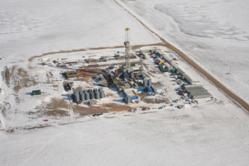 Quality Mat is there for all situations, even at 2 am, in the event that people are stuck or in trouble and in need of mats...
Killdeer, ND (PRWEB) May 30, 2013
Rather than finding a warehouse or storage for a temporary fleet, Quality Mat Co saw the need to make Killdeer, ND a second home to supply oilfield rig mats and ground protection mats out of. Founded in Southeast Texas, Quality Mat opened a North Dakota office, rather than another storage yard similar to those around the country in October of 2011. This spring this investment in the North Dakota is validated with the 2008 United States Geological Survey (USGS) estimates doubled at 7.4 billion barrels of recoverable oil as of April 30, 2013.
Bakken Expansion
March estimates doubled the 2008 production prediction for the Bakken shale to almost twice that, according to the USGS. To account for this, the many companies are ramping up activity and constructions projects. The Dakota Prairie Refining LLC, for example, is a $300 million joint venture of Indianapolis-based refiner Calumet Specialty Products Partners LP and MDU Resources Inc., as reported by PrarieBizMag.com.
Quality Mat Operations Manager Mike Carbaugh says he expects Quality Mat to be active on this site as well. Groundbreaking ceremony for the Dakota Prairie Refining LLC marked the beginning of what is expected to be a nearly two year construction process, with the result of 100 permanent jobs according to the BakkenShake.com.
Quality Mat Killer Offices
Located on 800 27th. Avenue S.E. the Quality Mat Killdeer offices are regularly open from 5:30 am – 7 pm, but the staff remains on call all 24 hours of the day to respond to emergency situations. Carbaugh says that Quality Mat is there for all situations, even at 2 am, in the event that people are stuck or in trouble and in need of mats. The crew and foreman will go as far as 200 miles to provide service for jobs, crossing the border into Montana. Currently 50 installations are in operation using Quality Mat ground protection mats. One project is the Hess expansion of the Tioga Plant, which has been utilizing wood mats from the Quality Mat Co.
The Killdeer location provides each type of mat that Quality Mat manufactures, from oil rig mats to the popular 3 ply ground protection mats for rentals as well as purchase. Similarly in Beaumont, Quality Mat has participated and supported local benefits for injured persons, builder foundations and other associations. Find out more information on the Quality Mat Co site.