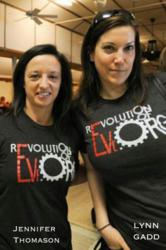 I come from academia, and Jennifer [Thomason] comes from the world of fitness. We believe that together we can help women realize their full potential and have happy and successful careers.
Austin, Texas (PRWEB) May 30, 2013
Next week Revolution of Eve, the new Austin-based non-profit focused on empowering women, will host the second event in their lecture series Breaking the Glass called Women In Construction. Construction Connection Co-Founder Kent Leighton will be speaking at the presentation and joined by professional females working in the construction industry. Together, the panel of speakers aims to shed light on the many job opportunities for women in construction, how to get started in the industry and offer advice on how to excel in a male-dominated industry.
Earlier this year entrepreneurs Lynn Gadd and Jennifer Thomason joined forces and resources to start their non-profit organization Revolution of Eve. Their mission is to work to empower women in every industry through mentorship and fitness. Gadd worked in career development at the University of Texas at Austin, and brings with her 12 years of experience working in career consulting. Thomason is the co-owner of a successful crossfit studio, Grand Mesa Crossfit, and brings a professional knowledge and understanding of fitness to the partnership. Together, the women are working to help others understand the importance of the mind-body connection and how a positive attitude and healthy lifestyle can help all women excel in their fields.
"I come from academia, and Jennifer [Thomason] comes from the world of fitness. We believe that together we can help women realize their full potential and have happy and successful careers," explains Gadd. Gadd and Thomason hope their lecture series Breaking the Glass will be the first step in achieving this mission. With the first successful lecture behind them, the duo has turned their attention to Women In Construction.
"I'm really excited to work with Revolution of Eve and to speak at Women in Construction," says Leighton of his upcoming presentation. "Construction is typically thought of as a male-dominated industry because people only think about the tradesmen – the heavy equipment and machinery operators, the electricians and the plumbers. People tend to forget, or maybe they just don't know, that there are so many other positions in a construction company. We're not just talking about the actual building, but all of the ancillary support as well."
This is why Leighton, a veteran of the construction industry himself, will be speaking on all of the other job opportunities available in construction. There are opportunities to work in the construction industry for individuals who have no prior knowledge of construction. For women with backgrounds in project management, for example, there are opportunities in accounting or account management, cost estimating, contract negotiation and management, sales and, of course, project management. There are also many opportunities for women with marketing backgrounds and computer science or IT knowledge.
Other members of the Women In Construction panel include professional women in the construction industry at all stages in their careers. From business owners to professors to the women working on job sites, Gadd and Thomason have assembled a varied panel of experts all focused on offering advice and guidance to fellow industry veterans and other women looking for opportunities to break into a new field. The event is free to attend and will be held on Friday, June 7, 2013 from 11:00 am to 12:30 pm at One West Hills Building, 3901 South Lamar Blvd. in Suite 110 located in south Austin, TX. For more information, visit Revolution of Even on Facebook.
ConstructionConnection.com was created out of a need for a more effective and streamlined way for construction industry professionals to get matched with the right industry jobs and with the right industry opportunities. The founders of Construction Connection, both industry professionals themselves, listened to both company and individuals' dissatisfaction with the traditional job boards, the paid resume blasts, the overpriced resume services and overall lack of sympathy toward the individual candidate. They also listened to the dissatisfaction from companies who post jobs only to get many irrelevant results or have to purchase high priced ads to showcase their company. Construction Connection is a patent-pending, one-of-a- kind profile creating / match-making system. The system delivers effective results. Construction Connection saves time, money and aggravation by matching people to people, people to companies, companies to people, and companies to companies.