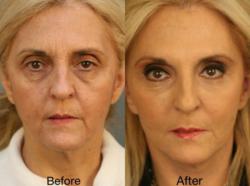 With the Beverly Hills Facelift we're able to achieve a much more natural and youthful result because we're going beyond just repositioning and tightening skin
(PRWEB) May 31, 2013
This year's "must have" in beauty-conscious Beverly Hills is a new plastic surgery procedure that gives the aging face a double-dose of rejuvenation. Developed by renowned facial plastic and reconstructive surgeon Paul Nassif, M.D., F.A.C.S., the Beverly Hills Facelift™ combines advanced surgical technique with the regenerative power of a pair of natural substances derived from the patient's own body.
The first facelift to revitalize both the deep tissue of the face and the skin, the Beverly Hills Facelift is the solution to both sagging skin and the loss of facial volume that occurs as we age.
"With the Beverly Hills Facelift, we're able to achieve a much more natural and youthful result because we're going beyond just repositioning and tightening skin," said Dr. Nassif. "With this procedure, we're also restoring the fullness and glowing skin that are the hallmarks of the young face."
The first step is a surgical facelift that improves the face's underlying structural foundation and elevates facial muscles and skin to counter the effects of gravity. Dr. Nassif then injects a revitalizing mixture of fat harvested from the patient's body and Platelet-Rich Plasma (PRP) derived from the patient's own blood.
The fat acts as a natural filler to restore youthful plumpness to cheeks, underneath eyes and other hollow areas of the face. The PRP aids in the retention of the fat graft, improves the skin's texture and helps stimulate collagen growth to keep the face younger looking.
Dr. Nassif reports that as word has spread of this fortified procedure, the majority of his patients are now opting for the Beverly Hills Facelift over traditional facelifts.
"After making the decision to have a facelift, it just made sense to me to get the most advanced treatment available," said patient Dr. Estella Sneider. "I liked the fact that the Beverly Hills Facelift uses natural products from the body…it's like tapping into my personal fountain of youth. In addition, Dr. Nassif's caring personality made me feel very safe!"
About Dr. Paul Nassif
Paul S. Nassif, M.D., F.A.C.S. is a facial plastic and reconstructive surgeon who has received international recognition by the media, patients and peers for his innovative surgical techniques. He specializes in obtaining natural results in both rhinoplasty and aging face surgery at Nassif MD Plastic Surgery in Beverly Hills, Calif. Patients from around the world come to Dr. Nassif for help in correcting some of the most challenging and complicated cases. He is also well known from his appearances on Bravo's hit series Real Housewives of Beverly Hills and E! Entertainment's Dr. 90210. For more information, visit http://www.spaldingplasticsurgery.com or http://www.rhinoplastyspecialist.com.