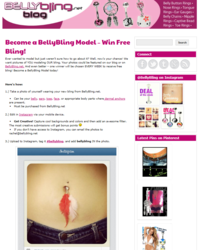 Integrating image-focused social media like Instagram into the mix is a great way to not only reach our customers, but also to let them interact with us.
Urbana, IA (PRWEB) May 29, 2013
Social media marketing may still be just a buzzword phrase to many companies, but for e-commerce businesses like BellyBling.net, it's quickly becoming a smart- and extremely cost-effective way- to reach its customers.
The company recently launched a modeling contest on social media platform Instagram, where customers can submit photos of themselves wearing body jewelry they've purchased from the company's website. The customer must use a special hash tag, #bellybling, and also include "bellybling" in the photo submission to indicate it's a photo for contest. Those photos are also shared to BellyBling's other social media pages on Pinterest, Facebook and Twitter. A winner is chosen each week, which is then featured on the company's blog, as well as all of the company's social media pages. Along with the recognition, the winning customer also receives free body jewelry.
Now in its fifth week, the contest is gaining new followers and customers each week, says Nikki Dudley, VP Operations for BellyBling at parent company Clickstop.
"Our target audience is women between the ages of 18 and 30; a group which uses social media heavily," said Dudley. "This contest in particular is working well for us since it is utilizing Instagram, Facebook, Twitter and Pinterest, which allows us to reach a wide variety of users within our target audience."
Another reason Instagram was chosen as the main platform for the contest is recent research that shows that online shoppers who view images of real people wearing a company's merchandise are more likely to convert than shoppers that view only the product image. Dudley says that some of the photo submissions the company has received are so good that the company's marketing department is adding the customer images on the website's product description page.
"Integrating image-focused social media like Instagram into the mix is a great way to not only reach our customers, but also to let them interact with us," says Dudley. "For younger demographics such as our target audience, customers expect a brand to be responsive and interactive. If they feel they can relate to a company, they're more likely to feel some loyalty to that brand."
The contest has also been an extremely cost-effective way to highlight some of the company's newer lines of belly button rings, as well as categories of other body jewelry such as cartilage jewelry, and tragus earrings, since the customer photos are essentially promoting the items. And because photos can easily be shared among users on social media, the reach can be exponential, with zero added cost. A "Get the Look" category has also been added on the company's blog as another way to share customer photos.
"The sharing aspect of social media has been such a benefit for us, and has also been a key factor in this contest," said Dudley. "We're excited to see what the future holds as we continue to grow our brand and connect with our customers."
###
About BellyBling.net
BellyBling is an e-commerce merchant owned and operated in Urbana, IA under parent company Clickstop, Inc. Focused on offering trendy, stylish body jewelry, BellyBling strives to make customer service a top priority, with the very best selection, value prices, and extraordinary service to every customer. To view the full selection, visit http://www.BellyBling.net.