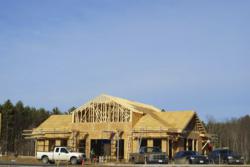 Asheville, NC (PRWEB) May 29, 2013
HomeSource Builders of Asheville, NC announces a complimentary home building guide available on their website, entitled, 'Building a House Together.' This guide offers the 5 steps to effectively build or remodel a home as a couple.
Building a home is both challenging and rewarding. Licensed counselor couple, Alice & Jared Massanari, experienced this while building their Asheville home in 2006. The process inspired them to write a book 'Building a House Together'. The free guide provides an overview of the complete book.
Tim Alexander, owner at HomeSource Builders, endorses the book, "This book is an invaluable tool for assisting our client couples to move smoothly through the decision-making process, keeping construction on schedule while maintaining their relationship." Couples can expect to gain insight into the decision making process and understand how to better communicate with each other and their builder.
Download the free version at http://www.homesourcebuilders.com or buy the complete book $7.00 at HomeSource Builders office in Asheville, NC. HomeSource Builders office is located at 172 Charlotte Street in downtown Asheville.
About HomeSource Builders
HomeSource Builders is a fully insured and licensed general contractor specializing in residential and light commercial construction in the Asheville, NC and surrounding area. HomeSources' philosophy for the building industry is to provide a "hands on" approach with clients. The company builds 10 to 15 custom homes a year, plus numerous remodeling and light commercial projects.