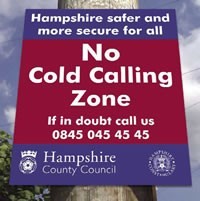 No Cold Calling Zones help combat the problem of doorstep crime
Portsmouth, Hampshire (PRWEB UK) 31 May 2013
Portsmouth Square Deal are keeping cold callers in check by sponsoring 'No Cold Calling Zones' across Portsmouth. The areas will be identified by No Cold Calling signs which give a clear message to anyone canvassing the area to stay away.
Over the last year the number of reported bogus cold callers rose in the Portsmouth area. Callers are pretending to be door-to-door salespeople, distracting the resident while an accomplice enters the property from a different entrance and burgles the home.
Portsmouth Square Deal was originally set up to protect consumers from rogue traders by offering legitimate businesses the chance to become approved members. By sponsoring the zones, Square Deal are protecting local consumers in yet another way.
Steve Rad from Portsmouth Square Deal said "Primarily the No Cold Calling Zones help combat the problem of doorstep crime. Not only does the scheme deter unscrupulous cold callers from approaching people living in the zones, but more importantly, it gives people the confidence to say "No".
Zones are being set up around the city. If residents are not in one of the zones, Square Deal have produced a free printable window sign for anyone that wishes to make it clear that cold callers aren't welcome. The signs can be downloaded from the Portsmouth Square Deal website.
To protect vulnerable residents Hampshire Trading Standards have also set up a quick response helpline to assist if someone is concerned about a doorstep caller. 01962 833 666 is the number to call between Monday to Friday 9am – 5pm or outside of these times contact the Police on 0845 045 45 45
Notes to editors:
http://www.portsmouthsquaredeal.co.uk
http://www.radweb.co.uk
For further information please contact Steve Rad:
023 9298 7655
info(at)portsmouthsquaredeal(dot)co(dot)uk
Portsmouth, UK Office:
+44 (0)33 33 444 505
12 Acorn Business Centre,
Northarbour Road,
Portsmouth,
PO6 3TH