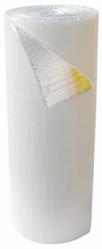 "We have customers using EcoFoil to line the insides of vans and trucks to keep them cool on the inside, which is especially useful for delivery-type vehicles.
Urbana, IA (PRWEB) May 31, 2013
The sales team at EcoFoil, a manufacturer of reflective insulation, hears from many satisfied customers about the difference the products have made once installed in homes and businesses. The product line is designed to stop up to 97% of radiant heat transfer, and includes radiant barrier insulation, double bubble insulation, under concrete insulation, insulation tape, and various insulation kits.
But as the popularity of the products continues to increase, the company is also regularly contacted by many customers using some of the items for alternative uses.
One example is North Carolina online farmers' market, Backyard Produce, which uses EcoFoil bubble insulation to ensure their boxes of farm fresh fruits and veggies remain at a comfortable temperature during customer deliveries. Because the insulation can be cut-to-fit, it makes it easy to conform to any box size.
EcoFoil's versatile bubble insulation has also turned out to be an integral part of insulated truck tool box inserts for HOTBOX. The layer of insulation is a key component of a system that includes a heating element, thermostat, and sensor to heat the storage space inside a tool box. The device is designed to meet the needs of contractors and builders who transport temperature-sensitive tools and other materials in their utility tool boxes.
Bubble insulation has also proven to be a great resource for agricultural and horticulture uses, in applications such as greenhouse and sugar shack insulation, and as an insulating layer for water tanks. Frank Frodsham at Bar Bar A, used EcoFoil double bubble insulation when he invented his own automatic waterer drinker for his horses. The device keeps the water line and fittings below the freeze line to prevent drinking water from freezing during the winter months.
David Arnold, sales specialist and product expert for EcoFoil, says he hears from customers each week about alternative uses for the innovative reflective insulation products.
"We have customers using EcoFoil to line the insides of vans and trucks to keep them cool on the inside, which is especially useful for delivery-type vehicles. We've also heard from a truck driver that cut some of the bubble insulation to place under the floor mats in his semi-truck to lower the floor temperature," said Arnold. "One of the more unusual applications I've heard recently was from a customer that was using EcoFoil products to insulate a yurt, which is a portable tent used by Russian nomads.
Arnold says the EcoFoil blog has become a great resource for sharing the stories of customers and their alternative uses of EcoFoil products.
"Our blog is a really a great vehicle for us to spread the word about other uses for EcoFoil," said Arnold. "We always encourage our customers to contact us once they've installed the products to let us know how they're working, and we appreciate the opportunity to tell their stories so other customers can benefit."
EcoFoil can be purchased online and by calling 888-349-3645.
###
About EcoFoil
EcoFoil® is a leading supplier of radiant barrier and foil bubble insulation. Products are manufactured in the USA and Canada exclusively - we do not sell radiant barrier product imported from Asia. EcoFoil is a division of Clickstop, Inc., located in Urbana, Iowa. Clickstop was founded in 2005 as a manufacturer's representative and distributor of building materials to customers in the Midwest. The company expanded to develop an e-commerce business and now sells EcoFoil direct to customers in all 50 states and internationally through our website, EcoFoil.com. Clickstop has earned an A+ Rating from the Iowa division of the Better Business Bureau. For more information, visit http://www.clickstop.com.