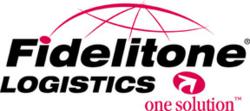 Wauconda, IL (PRWEB) May 31, 2013
Fidelitone Logistics, an industry leader in third-party logistics and supply chain performance, has been recognized by the Supply Chain Brain as one of North America's 50 Most Successful 3PLs.
Supply Chain Brain's list is not a ranking list, but one that lists the top 50 3PL providers with Class-A operations based off their 2012 analytics. Each company is located in North America but is able to provide customers with global capabilities. Overall, revenue in 3PL increased in 2012, and gross revenues for 3PLs are expected to grow exponentially with predictions ranging from $142 to $151 billion by the end of 2013. You can read the article North America's 50 Most Successful 3PLs on Supply Chain Brain site.
"We are honored to be included on such a prestigious list. While Fidelitone was recognized for our supply chain services in consumer electronics, our logistics services have expanded to include last mile delivery and order fulfillment," states Joe Giglio, Vice President of Marketing. "Recent mergers with TechniPak and Purnell Furniture Services have expanded these core services and have grown our last mile service area to a 27 state region and our 1 – 2 day order fulfillment to 98% of the US population."
For more information on last mile delivery, order fulfillment or supply chain management solutions available from Fidelitone, please visit http://www.fidelitone.com..
About Supply Chain Brain
Supply Chain Brain is the world's most comprehensive source for supply chain management information providing complete coverage of emerging trends, strategies and best practices, forward-thinking ideas, cutting-edge solutions and the latest innovations. They continue to write and report on fundamental supply chain principles as they evolve and mature.
About Fidelitone Logistics
Fidelitone Logistics is a diversified supply chain solutions provider that takes a client-centric approach to order fulfillment, last mile delivery, and supply chain management. Headquartered in the Chicagoland area, Fidelitone Logistics is a privately-held family owned company with more than 32 locations and 600 employees throughout the United States.