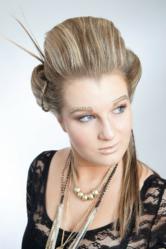 This experience taught me that if you put your mind to it, anything is possible.
Minneapolis, MN (PRWEB) May 30, 2013
Minnesota School of Cosmetology (MSC) student Roselyn Bannerman took her style skills to the stage at Wella Professionals Regional Trend Vision competition held at the Walker Art Center in Minneapolis in April. Roselyn took first place in the student division, earning her a place in the North American Trend Vision Competition on July 19. The winners of the North American competition will be invited to attend the world competition held in Germany.
"The reason I am pursuing an education in the cosmetology field is because it is what I love doing," 19-year-old Bannerman said. "It has always been my dream to do hair."
Wella Professionals is a leading innovator in hair trends, style and color. Each year, they identify trends, inspiring stylists worldwide. This year's theme is "The Sound of Color" which is illustrated by the variety of hues presented. These competitions are a showcase of those trends.
The stylists are asked to put their own unique spin on the trends by creating works of art, with hair being the canvas. Hundreds of stylists enter the competition by submitting photos of their visions and creations online. Judges from Wella then narrow that pool of applicants down to those who are invited to compete on stage in front of a panel of judges. About 15 students participated in the live competition.
"A competition like this introduces students to the professional aspects outside of school," said Kelvin Shoulders, an instructor at MSC. "It teaches them how to work with deadlines. It prepares them on how to have forethought and execution. These things translate in a smaller capacity, like working with clients."
Another benefit to competing in such an event? "It helps bolster their self-esteem," Shoulders said. MSC students are fortunate in that they have many opportunities available to compete in such events, as well as fashion shows and other competitions held on campus. These offer students a chance to experiment, practice, and, most important, learn.
Bannerman expressed interest in competing after representatives from Wella Professionals came and spoke to the students.
"I decided to enter the competition because I wanted to put myself out there," Bannerman said. "I wanted people to see my work and what I can do as a person. I also wanted to set the bar high for myself and others that were in the competition."
Shoulders offered Bannerman guidance throughout, from refining her hair creation to suggesting she pick a floor-length dress to wear. After all, this competition is about more than just hair – it's about style.
"It is exciting to have a young student be rewarded so highly for the struggles and challenges they face from day to day, because sometimes just getting to school is an accomplishment in itself," said Angie Durkee, MSC salon school manager. "I still remember the feeling that came over me when they announced [Bannerman's] name. I had a feeling she was going to get in the top three, and when she won the Gold, it was surreal."
Bannerman teamed up with other MSC students for the competition. Teagan Mohs did the makeup on Lindsay Van Lith, who was the model.
"I want to say thanks to my friends and schoolmates, Lindsay and Teagan, for their hard work," Bannerman said. "Without them, I wouldn't be here. I love them both and appreciate all the hard work we put into the competition. This experience taught me that if you put your mind to it, anything is possible."
About Minnesota School of Cosmetology:
Minnesota School of Cosmetology (MSC) carries on a tradition of educational excellence that began with the establishment of Minnesota Cosmetology Education Center in 1950. Today, the school has two campuses in the Twin Cities, located in Plymouth and Woodbury. The campuses feature several classrooms and a large, professional salon-style clinic floor. MSC is a member of a premier, family-managed system of career colleges and universities based in Woodbury, Minn. These specialty skills colleges prepare work-ready professionals for successful careers in a wide range of high-demand fields. Through its mission, We Care, the organization, integrates hands-on and career-focused education with service- and applied-learning experiences that expose students to their communities and real-world situations. For more information, visit msccollege.edu.