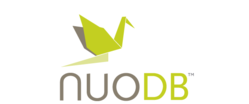 We are thrilled that NuoDB's innovative technology is being recognized by elite industry experts for the value it brings to thousands of users. Barry Morris, CEO and Co-Founder, NuoDB, Inc.
Cambridge, MA (PRWEB) May 29, 2013
NuoDB, Inc., the pioneer in Cloud Data Management Systems (CDMS), announced today they have been awarded the coveted Red Herring Top 100 North America award from Red Herring Magazine, a leading business and technology publisher.
NuoDB was selected from a pool of thousands of submissions as one of the most innovative, disruptive and fastest growing companies in North America. The Top 100 were selected based on quantitative and qualitative criteria, such as financial performance, innovation, quality of management, IP creation, CAGR, execution of strategy and disruption in their respective industries.
More recognition for NuoDB
In addition to the prestigious Red Herring award, NuoDB has recently received the following recognition:
Gartner "2013 Cool Vendor in Information Infrastructure." For this award Gartner selected companies that offer "capabilities that enable information producers and consumers to describe, organize, share, integrate and govern any type of data and content, anytime, anywhere." NuoDB was specifically recognized as the first of a new breed of database management system that combines the benefits of ACID SQL capabilities with the ability to scale elastically and easily.
AlwaysOn "Companies to Watch." The AlwaysOn editorial team, a group of leading venture capitalists and select industry experts across the globe, went out into the entrepreneurial ecosystem to find the top 100 private companies that are disrupting the entire computing paradigm.
TiE "Top 50." TiE50 is one of the Silicon Valley's premier annual awards programs keenly contested by thousands of technology startups worldwide. It was created to recognize the world's most enterprising technology startups.
Currently NuoDB is also a finalist for the upcoming BostInno State of Innovation and the World Economic Forum Tech Pioneers awards.
Supporting quotes
"Over the past two years we have become the leading NewSQL database provider," stated Barry Morris, NuoDB CEO and Co-Founder. "We are thrilled that NuoDB's innovative technology is being recognized by elite industry experts for the value it brings to thousands of users in companies worldwide. Our unique and disruptive solution is truly redefining the relational database market."
About the NuoDB Starlings release
The NuoDB Starlings cloud database features elastic scalability with high performance, SQL compliance and guaranteed ACID transactions. The release, first made generally available on January 15, 2013, eliminates the need for the complex database workarounds like clustering, performance tuning and sharding that are typically associated with bringing applications to the cloud.
About NuoDB
NuoDB, Inc., is a Cambridge, MA-based technology leader that provides the industry's patented, elastically scalable Cloud Data Management System (CDMS). Unlike every other database, NuoDB is architected to scale out effortlessly on the cloud without compromising any of the features or guarantees of relational databases.
NuoDB customers include thousands of developers worldwide, automotive after-market giant AutoZone, NorthPoint Solutions and other innovative companies.
NuoDB was launched in 2010 by industry-renowned database architect Jim Starkey and accomplished software CEO Barry Morris. http://www.nuodb.com