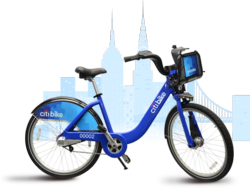 We are very excited to see New York City's bike share program finally come to fruition
Brooklyn, NY (PRWEB) May 29, 2013
City Bike company Brooklyn Cruiser commented on New York City's newly launched bike share program. The bike company, which launched in 2011, views the program as a huge win for the biking community as well as those who have an interest in biking, but just haven't had a chance to hit the streets.
"We are very excited to see New York City's bike share program finally come to fruition," said Ryan Zagata, President of Brooklyn Cruiser. "This program will not only help to increase awareness of the huge benefits of urban cycling, but, as a secondary benefit, will help to promote local businesses along the established bike lanes," he added.
The Citi Bike Share Program is a self-service system providing members with easy access to a network of thousands of bicycles. Riders can pick up their bike from one of over 600 stations and then return the bike to any of the hundreds of stations located throughout the city. Citi Bike will consist of 10,000 bikes in Manhattan, Brooklyn and Queens. It is privately sponsored by Citi and MasterCard and privately operated by NYC Bike Share LLC, with no public funding.
About Brooklyn Cruiser
Established in 2011, Brooklyn Cruiser mirrors the same iconic qualities of Brooklyn itself - accessibility, durability, and original style. Brooklyn Cruiser commuter bikes are available in single speed, three speed and seven speed models starting at $399. Bikes can be found at retail locations across the United States and in Canada or can be purchased online at http://www.brooklyncruiser.com. For more information, contact Ryan Zagata at info(at)brooklyncruiser(dot)com or call (800) 631-0630. Brooklyn Cruiser is based in Williamsburg, Brooklyn.