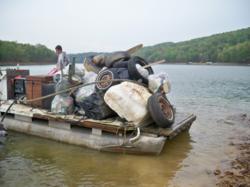 This is an effort of volunteers from business owners to youth groups.
Maynardville, TN (PRWEB) May 30, 2013
Plan East Tennessee is funding a capacity building grant to further the efforts of the Norris Lake Stakeholders group to continue efforts in growing awareness of the need to educate and enforce existing regulations to preserve Norris Lake as a public water drinking source, recreation area, and an important economic asset for the rural communities surrounding the lake.
In a telephone conducted by the University of Tennessee's College of Social Work Center for Applied Research and Evaluation between August 15, 2012 and October 9, 2012, respondents in the five county region were asked to rank in importance five environmental issues that are common to communities. In order of importance, reducing water pollution and protecting natural resources ranked number 1 and 2.
The funding provided to the Norris Lake Stakeholders group will further the work begun in 2012 that has included two public forums bringing together state agencies, state parks, Chambers of Commerce, Tourism Associations, boy scouts troops, property owner's associations, 4H groups, law enforcement, sustainability/environmental advocates, marina owners, and other individuals/ business owners interested in preserving the beauty of the watershed and surrounding public lands. This group has hosted two five county clean-ups of the lake shoreline involving over 200 volunteers in each year.
PlanET spokesperson, Mark Donaldson, Executive Director of the Knoxville-Knox County Metropolitan Planning Commission, stated that projects such as this one are important opportunities for all of us in the region to listen to each other and work together to make our communities stronger, more effective, more livable, and more prosperous.
Plan East Tennessee (PlanET) is a regional partnership of communities building a shared direction for our future. We seek ideas about protecting our valuable resources and addressing our challenges regarding jobs, housing, transportation, a clean environment, and community health. Our goal is to create long-term solutions for investments in our region and to define the next chapter in our rich history, leaving a legacy of optimism and opportunity for future generations