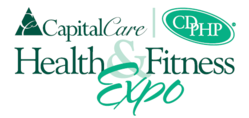 Albany, NY (PRWEB) May 30, 2013
CapitalCare Medical Group and CDPHP® are proud to present the most comprehensive and interactive wellness event in the region. The CapitalCare/CDPHP Health & Fitness Expo offers two days of family-friendly health and fitness activities and information, including:

Massage Therapy
Body Fat Analysis
Blood Pressure Checks
Asthma Screening
Diabetes and Cardiac Risk Assessments
Chiropractic Services
Fitness Demonstrations
Entertainment and Meet & Greets with Elite Athletes
Book signing with "Run Like a Mother" authors
Sarah Bowen Shea and Dimitry McDowell
In addition, eligible expo visitors can enter the CDPHP Get Healthy & Win sweepstakes for a chance to win great prizes and learn how to improve their exercise and eating habits with CDPHP InMotion and CaféWell.
The CapitalCare/CDPHP Health & Fitness Expo marks the kickoff of the annual Freihofer's Run for Women 5K, one of the world's largest and most prestigious all-female road races. The 35th annual event will feature thousands of women of all ages and abilities who will compete alongside many of the world's greatest long-distance champions.
When: Friday, May 31 from noon to 7 p.m. & Saturday, June 1 from 8 a.m. to 2 p.m.
Where: The Empire State Plaza Convention Center (New Location) Albany, N.Y.
For more information about the CapitalCare/CDPHP Health & Fitness Expo, visit the Freihofer's Run for Women website at http://www.freihofersrun.com.
***Excellent Photo, Video and Interview Opportunities***
About CDPHP®
Established in 1984, CDPHP is a physician-founded, member-focused and community-based not-for-profit health plan that offers high-quality affordable health insurance plans to members in 24 counties throughout New York. CDPHP is also on Facebook, Twitter, LinkedIn and Pinterest.
About CapitalCare Medical Group
CapitalCare Medical Group is a physician-owned medical practice with over 600 employees including more than 150 health care professionals. The group offers primary care services in Family Practice, Pediatrics and Internal Medicine throughout the Capital District. CapitalCare also provides services in Endocrinology, Pulmonary and Sleep Medicine, Developmental-Behavioral Pediatrics, Nephrology, adult and pediatric Neurology, medical nutrition therapy, and comprehensive diabetes education and operates a state-of-the-art clinical laboratory. For more information about CapitalCare Medical Group, visit http://www.capcare.com.