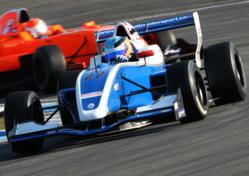 Hopefully we can have a strong weekend on home soil and fly the flag for the Brits
London, United Kingdom (PRWEB UK) 30 May 2013
Britain's Raoul Owens will compete on the full Silverstone Grand Prix Circuit for the first time in his career this weekend, 1st/2nd June, as the Formula Renault 2.0 Northern European Cup arrives in the UK for its third event of 2013 – and the 18-year-old has set his sights high on his return to home soil.
Although having experienced the Northamptonshire venue's shorter National Circuit configuration during his two years in the Protyre Formula Renault Championship, rounds six and seven of the NEC will mark the first opportunity for the Pembury-born driver to race on the 3.66-mile layout.
This weekend's encounters will also be the first ever on British shores for the NEC, giving Raoul and his UK-based Mark Burdett Motorsport team an even greater incentive to strive for their maiden podium together in the ultra-competitive Northern European series.
"I really can't wait for this weekend's races, it's fantastic to be back racing in the UK and especially on the Grand Prix track at Silverstone – it's somewhere I've wanted to race for a long time", said the Bright Spark Ventures-backed youngster, "Hopefully we can have a strong weekend on home soil and fly the flag for the Brits, if all goes to plan we're aiming to challenge for the podium."
Raoul, who is these days based in Cape Town, South Africa, has impressed so far in his maiden year at European level with great pace and excellent racecraft. He has, though, encountered more than his share of misfortune as well, such as last time out at the Nurburgring in Germany when shunted out of eighth place on the opening lap of round four.
"We definitely had the pace for a very strong finish in the first race at Nurburgring, so it was really disappointing to be taken out", added the Kent teenager, "I really am confident we can do well this weekend, as long as we can qualify strongly then I'm sure we'll have a car capable of two big results.
"The guys at the team have done a fantastic job so far, I really feel I've made a big improvement in my driving since joining Mark Burdett. You always want to do well at your home track and if we have a trouble-free weekend, I'm sure we can."
With a grid of around 30 cars expected at Silverstone this weekend, featuring drivers from all four corners of the globe, the competition will be as fierce as ever. Big crowds are also expected for the NEC's maiden trip to the UK with the championship running as support to the high-profile Blancpain Endurance Series and international single-seater category AUTO GP.
Following two free practice sessions on Friday, 31st May, qualifying for rounds six and seven of the 2013 Formula Renault 2.0 NEC will begin at 16.00. Race one of the weekend will take place at 13.15 on Saturday, 1st June, with race two scheduled for 10.30 on Sunday, 2nd June.
Provisional 2013 Formula Renault 2.0 Northern European Cup Standings (after Rd5):
18th Raoul Owens, 22pts
twitter.com/raoul_owens
http://www.facebook.com/RaoulOwensRacing