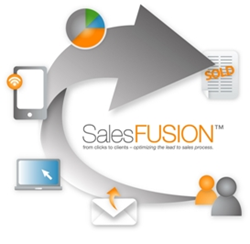 Atlanta, GA (PRWEB) May 30, 2013
SalesFUSION, a leading provider of marketing automation software, announced that it will be a gold sponsor at this year's Integrated Marketing Week in New York City. SalesFUSION, a leading marketing automation software provider will both exhibit and present at this key event in the DMA lineup. The Integrated Marketing Week event is a premier showcase for integrated marketing strategy and digital campaign management. The show is located at the Metropolitan Pavilion in NYC and runs from June 10th – 13th, 2013.
SalesFUSION, with several hundred midsize and large enterprise clients such as brand-names Hitachi, Coverall, Avanade and Green Giant, has differentiated itself in the white-hot cloud marketing automation market by focusing on lead to revenue management and helping its customers align their marketing and sales efforts. SalesFUSION has enjoyed rapid growth in revenue, new customer acquisition and staff over the last several years. With a strong industry interest on integrated marketing automation, b2b and retail companies alike are paying close attention to software platforms like SalesFUSION, which marry both marketing and sales process and technology to facilitate the management of leads as they move through a sales funnel.
"We are excited for this event as it will afford us the ability to showcase the SalesFUSION marketing platform to a diverse group of retail and b2b companies" said Kevin Miller, Chief Marketing Officer at SalesFUSION. "Marketing & sales alignment has quickly become an executive-level imperative for many companies and SalesFUSION is right in the middle of this. We view the DMA and their events as a great opportunity to present our point of view to a broad cross-section of marketers and believe that both retail and b2b organizations can benefit from the marketing to sales process automation that our solution brings to bear. We will also be presenting a topic at the show around how companies have lost control of their sales cycles and how they can take some control back with marketing automation, integrated to their sales efforts.
SalesFUSION is unique in the marketing automation space due to the fact that it is built on its own CRM database. This has facilitated much deeper integration to leading CRM software solutions such as Microsoft Dynamics, Salesforce.com, Sage and Sugar CRM. As such, SalesFUSION tends to focus more on how leads are acquired and tracking them as they move through traditional and non-traditional sales funnels. SalesFUSION's CMO, Kevin Miller, will be presenting on how companies can use new forms of prospect and buyer data, collected from marketing automation systems, to improve their overall marketing to sales processes.
About SalesFUSION
SalesFUSION 360™ provides software that accelerates revenue by connecting sales and marketing with prospects at the moment they are ready to buy. This is made possible through the SalesFUSION 360 suite, which complements CRM applications by adding an on-demand enterprise lead management service. SalesFUSION 360 increases lead quantity, lead quality, and revenue conversion rates by integrating and automating the lead management process. SalesFUSION integrates marketing automation software natively with more CRM vendors than any other marketing software package available today. Visit our site: http://www.salesfusion.com.