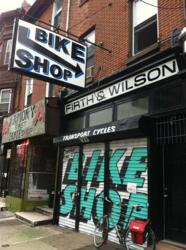 Philadelphia is a near and dear northeast neighbor and it was really only a matter of time before our continuing national expansion landed us in the right venue to introduce a little Brooklyn to Philly's urban cycling community
Philadelphia, PA (PRWEB) May 30, 2013
City bike company Brooklyn Cruiser today announced their availability in Philadelphia's new Firth & Wilson Transport Cycles bike shop, which celebrates its grand opening this Saturday, June 1st, 2013. This is the first time the chic and vibrant Brooklyn-based cycles will be available in The City of Brotherly Love.
Brooklyn Cruiser urban bike designs include classic European features with a modern twist - a stylistic match for Philadelphia's diverse downtown landscape, from Old City District to Rittenhouse Square. Standouts include a signature double top tube, cream colored tires, preconditioned leather saddle and grips, double kickstands, and optional rear carrier crates. All five models from the brand's 2013 line-up will be available for purchase when Firth & Wilson Transport Cycles opens their doors at 933 Spring Garden Street:
Firth & Wilson Transport Cycles
933 Spring Garden Street
Philadelphia, PA 19123
(215) 410-7296
"Philadelphia is a near and dear northeast neighbor and it was really only a matter of time before our continuing national expansion landed us in the right venue to introduce a little Brooklyn to Philly's urban cycling community," said President Ryan Zagata. "Firth & Wilson Transport Cycles is an ideal shop to work with, and we're really excited to debut right along with them," he added.
About Brooklyn Cruiser
Established in 2011, Brooklyn Cruiser mirrors the same iconic qualities of Brooklyn itself - accessibility, durability, and original style. Brooklyn Cruiser urban bikes are available in single speed, three speed and seven speed models starting at $399. Bikes can be found at Rotations in Southampton as well as retail locations across the United States and in Canada. For more information, contact Ryan Zagata at info(at)brooklyncruiser(dot)com or call (800) 631-0630. Brooklyn Cruiser is based in Williamsburg, Brooklyn.