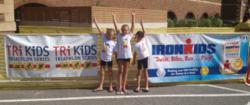 We believe that kids will continue to be active if they have fun, don't feel pressure and come away from the experience with a sense of pride and accomplishment.
Burlington, Ontario (PRWEB) May 30, 2013
IronKids Gummy Vitamins is a proud sponsor of the TRi KiDS Triathlon Series for the second year in a row as part of their dedication to encouraging kids to stay active. Thanks to sponsors like IronKids Gummy Vitamins, over 4,700 young athletes between the ages of 3 and 15 will participate in these TRi KiDS triathlons.
The across Canada series kicks-off June 9th in Burnaby, BC. Other TRi KiDS events will take place in Burlington, Oakville, Okanagan, Fraser Valley, Fergus, Niagara and Milton. Their "complete not compete" philosophy encourages active kids by focusing on the achievement of each young individual.
"We believe that staying active is an integral part of staying healthy and finding events that are fun for kids, makes staying active easy!" says Deborah Lowther of Life Science Nutritionals, the makers of IronKids multivitamins for kids. "We love their core message and seeing the joy on the kids faces as they emerge from the pool, ride by on their bikes and round the final corner on their run makes it all so rewarding."
Every year due to the success of the previous year, the TRi KiDS event grows. This year, Burnaby was added to the Western Canadian events and Niagara event has been expanded into two separate events. Because of the popularity of the events, the races sell out early with both Burlington and Oakville already sold out.
Even Lowther's three young daughters participate in the annual event. "They love it so much that last year they participated in the Milton, Niagara, Burlington and Oakville events and are set up to do at least 3 this year," says the proud mom. "They even inspired us to do our first triathlons this summer and go for a Half Ironman."
The goal of the TRi KiDS events is to inspire self-confidence and motivate kids to stay active through sport. "We started TRi KiDS as a way to promote physical activity in a non-competitive, fun way," says TRi KiDS Co-Founder Tara Melville. "We believe that kids will continue to be active if they have fun, don't feel pressure and come away from the experience with a sense of pride and accomplishment."
According to Statistics Canada, 31% of Canadian children aged 5 to 17 are overweight or obese. Among the lifestyle factors to blame, a serious lack of physical exercise is listed as one of the top contributors. Instead of getting outside and playing, kids are staying inside and watching TV or playing video games.
"We hope by supporting TRi KiDS and encouraging parents to teach their kids about vitamins and nutrition and healthy habits, like choosing healthy snacks over convenience food, that we can make a difference in the next generation," says Lowther. "That's why we're so proud to work with organizers Tara and Brad, who work diligently to ensure the message is about kids having fun, being active and participating."
In addition to helping kids stay active, TRi KiDS supports the Pediatric Oncology Group of Ontario and BC Children's Hospital Foundation. Race participants can choose to help TRi KiDS raise funds for these charities by creating a personalized online donation page. Last year, TRi KiDS athletes raised over $21,000.
"When we started building a partnership with IronKids Gummy Vitamins, it was clear there were many synergies between our two companies," says Melville. "We have mutually aligned goal and values. We both aim to help kids stay active and healthy through sport and activities they enjoy. IronKids Gummy Vitamins supports healthy development and the benefits of staying active, and so does TRi KiDS."
"The benefits of physical activity go beyond good health – children and youth develop self-confidence, they learn how to set goals and they can easily identify the connection between being active, eating well and good health. IronKids and TRi KiDS celebrate all these great things! TRi KiDS is proud to partner with IronKids Gummy Vitamins! Swim, bike, run, fun!"