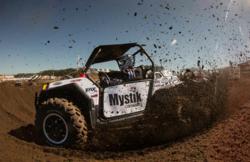 Minneapolis, MN (PRWEB) May 31, 2013
For the second year in a row, the Mystik® Lubricants Terracross™ Championship will be presented by Polaris RZR®. The series, known as rough, tough and muddy racing, invites some of the most recognized power sports and action sports athletes, such as Daryl Rath, Doug Gust, Chris Burandt, Paul Thacker and others to tackle some of the toughest, man-made tracks imaginable.
"Polaris is excited to be part of Terracross for its second year," said Jason DiFuccia, marketing manager for Polaris RZR. "The Terracross tracks provide an incredible challenge to the racers and are perfect to showcase the capabilities of our products."
Polaris RZR vehicles will be used exclusively in the "Pro Polaris RZR," "Hero Adaptive" and "Women's" classes, with the Scrambler XP 9850 H.O. being the majority ATV in the "ATV" class. Terracross athletes will battle in pursuit of the Terracross Championship at three national events during the circuit's 2013 racing season. Fans can catch the action live or aired on CBS Sports Network. The 2013 schedule is as follows:
-August 10 & 11-Elk River, Minn., ERX Motor Park
-September 7 & 8-North Branch, Minn., Hay Days
-October TBD-Mystik Terracross Finals
"With Polaris being the industry leader and innovative expert of the Side x Side market Terracross is privileged to have them on board as a partner," said Joe Duncan, Terracross Sport Organizer. "By building a machine we can take off the showroom floor of a dealer and go straight to the race track it creates an accessible and cost effective way of going racing."
More information about Terracross can be found at Terracrossracing.com, on Facebook at Terracross Championship and on Twitter @Terracrossrace.
About Terracross
The Mystik Lubricants Terracross Championship features some of the most well-known powersports and action sports figures in the world racing Side-by-Sides, Utility Quads and Sport Quads on the gnarliest track anyone could imagine. Athlestes will battle it out over rocks, logs, tires and mud in pursuit of the Terracross Championship. Fans from all disciplines can cheer on their favorite sports icons as they compete, not only against others, but themselves.