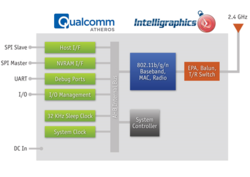 Richardson, TX (PRWEB) May 31, 2013
Intelligraphics Inc., the industry leader in device driver development services since 1992, announces the launch of the IGX4100 Wi-Fi Driver Suite for Qualcomm Atheros AR4100 and AP4100P chipsets. The IGX4100 Wi-Fi Driver Suite supports the widest variety of microcontrollers available in both low power and low memory configurations.
Intelligraphics' New IGX4100 Wi-Fi Driver Suite was designed specifically to tap the capabilities of Qualcomm Atheros AR4100 and the follow-on AR4100P chipsets. The small form-factor, single-stream, 802.11b,g,n Wi-Fi system-in-package (SIP) solutions were designed for the Internet of Everything leveraging Qualcomm Atheros' Align technology enabling the longest possible range at the lowest power consumption. Our drivers enable applications that place a high priority on system cost, power consumption, ease of use, and fast wake-up times. The Suite was created to enable wireless functionality that supports applications on small foot print operating systems, "No OS" super loop architectures and RTOS including Micro C (Micrium), FreeRTOS and ThreadX and can be ported to any custom OS. IGX4100Driver Suite is compatible with TI MSP430, Atmel AVR's, Renesas, STM32, PIC and Energy Micro EMF32 series and can be ported for most other MCU's.
Typical products where these solutions can be deployed include most any control that has a low data rate and transmits infrequently. Smart energy, intelligent home, security, sensor network integration, automation, medical monitoring, environmental monitoring, locationing and other Machine to Machine applications benefit from these highly integrated solutions.
"Over 15 years of WI-FI experience in PC and embedded driver development, and a solid partnership with Qualcomm Atheros enable us to offer these new products to our customers. Any microcontroller they choose paired with the IGX4100 Wi-Fi Driver Suite will provide the best performance, lowest power consumption with the lowest system cost." said Intelligraphics' president Scott Lawson.
Recognized as an industry leader for over 20 years, Intelligraphics' engineering team provides a variety of expert hardware development, driver and firmware development and system integration services to a worldwide customer base. Intelligraphics offers significant expertise in a variety of real-time operating systems and hardware technologies. Specialties include USB, Audio, 2D and 3D Graphics, and WI-FI driver development. Intelligraphics is a Microsoft Certification Test Facility and has offices in Richardson TX and Bangalore India.