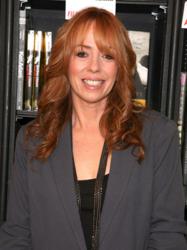 Pasadena, CA (PRWEB) May 30, 2013
Pasadena Recovery Center Hosts Mackenzie Phillips for Their Speaker Series.
Pasadena Recovery Center
10:30 AM
Wednesday, June 5, 2013
Price- FREE
1811 N Raymond Ave Pasadena, CA 91103
Pasadena Recovery Center is pleased to host Mackenzie Phillips for their groundbreaking speaker series on June 5th. Mackenzie Phillips and Pasadena Recovery Center have a strong relationship, Mackenzie stayed there for recovery from her addiction problems, during Season 3 of Celebrity Rehab hosted by Dr. Drew. Mackenzie will be speaking at 11:30 am about her struggle with addiction, her life's path, her book High on Arrival and signing copies of her book after she speaks. Prior to Mackenzie's speech, Pasadena Recovery Center will be giving tours of their impressive facility at 10:30 am, admission is free. Pasadena Recovery Center Speaker Series, hosts amazing authors, entrepreneurs, celebrities, and experts to talk about their personal experiences with addiction and the way it has effected them and the ones around them.
PASADENA RECOVERY CENTER: is a 98-bed drug and alcohol treatment center located in the charming historic district of Pasadena that was co-founded in 2000 by renowned psychiatrist Dr. Lee Bloom, his daughter, Criminal Defense Attorney Alison Triessl, and his son, Michael Bloom. Known for its 12-step based comprehensive treatment program, Pasadena Recovery Center is dedicated to providing, compassionate, comprehensive, and affordable care to those suffering from chemical dependency.
1811 N Raymond Ave Pasadena, CA 91103
MACKENZIE PHILLIPS: is an American actress and singer best known for her roles in American Graffiti and as rebellious teenager Julie Cooper Horvath on the sitcom One Day at a Time. She is most recently known for her role on Disney channels science - fiction show So Weird. Mackenzie has had severe troubles with addiction through out her life and now wishes to educate others on overcoming and conquering it.