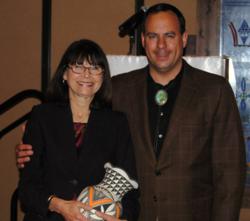 Denver, CO (PRWEB) May 29, 2013
Troy A. Eid, a shareholder in the Denver office at the international law firm of Greenberg Traurig LLP, is pictured with Professor Carole Goldberg, Vice-Chancellor of the University of California at Los Angeles, recipient of the 2013 Lawrence Baca Award for Lifetime Achievement by the Federal Bar Association. The award ceremony took place on April 12, 2013 at Pueblo of Pojoaque in New Mexico.
Eid attended the Federal Bar Association in connection with the 38th Annual Indian Law Conference on behalf of the Indian Law and Order Commission. The ILOC members, including Eid and Goldberg, had an executive session panel meeting during the conference. Goldberg is a nationally recognized authority in federal Indian and tribal law, and was appointed in January 2011 by President Obama to serve on the Indian Law and Order Commission, serving with Eid, who chairs the commission.
About Greenberg Traurig
Greenberg Traurig, LLP is an international, full-service law firm with approximately 1750 attorneys serving clients from 36 offices in the United States, Latin America, Europe, the Middle East and Asia. In the U.S., the firm has more offices than any other among the Top 10 on The National Law Journal's 2012 NLJ 250. For additional information, please visit http://www.gtlaw.com