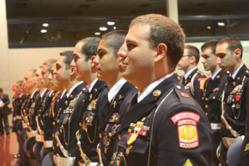 The graduating class upheld the Academy's record of 100% college admission for the fifth year in a row.
Mexico, Missouri (PRWEB) May 29, 2013
The day began with Senior Review, during which the 2012-2013 cadet leaders officially passed leadership on to their 2013-2014 successors. Senior John Dillon of Colorado Springs, Colo., the current Battalion Commander (BC), passed the Davison Saber to junior Roel Rodriguez of Roma, Texas. The Davison Saber is passed to the newly designated BC at each Senior Review.
Events continued with the graduation ceremony in MMA's Centennial Gymtorium. COL John Church, USMC, an assistant professor at Immaculata University and the leader of the Civil-Military Integration Team at the Pentagon, served as the keynote speaker.
During the ceremony it was announced that the graduating class, which represents four countries, also upheld the Academy's record of 100 percent college admission for the fifth year in a row. One graduate, Eoghan Matthews of St. Louis, earned an appointment at the United States Military Academy, to which he will report in July. Matthews was also accepted to three additional institutions, including Renselaar Polytechnic Institute, and earned a total of $849,000 in college scholarships.
Senior Nischal Khanal of Mexico, Mo. was the class valedictorian. Khanal is a National Merit Finalist and plans to attend Washington University in St. Louis on an academic scholarship. He also achieved a perfect 800 on the Math section of the SAT. Khanal earned nearly $1.2 million in scholarship awards from 14 different institutions.
John Dillon was the class salutatorian and earned $223,000 in college scholarships. He plans to attend the University of Denver.
After the graduation ceremony, the 124th Corps assembled on front campus for the traditional Final Formation – an emotional goodbye for the young men in grades 6-12 from around the world who developed lifelong bonds with one another during their time at Missouri Military Academy.
Established in 1889, Missouri Military Academy is A Preparatory School with a Military Tradition. MMA's 360˚ EducationTM fosters academic excellence, character development and leadership training in a safe, structured environment in boys grades 6-12 from around the world. For more information, visit http://www.missourimilitaryacademy.org.