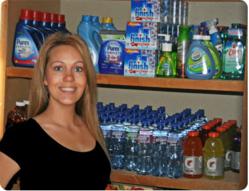 Boise, ID (PRWEB) May 31, 2013
While the use of coupons has seen a significant rise in the recent years, there has always been a lack of information and awareness about how to effectively use coupons and maximize their benefits. Even the information that is available is fairly limited and more importantly is mostly incorrect, serving to mislead people. Ergo, with there being an active need to spread awareness about couponing, Jessica Hacker's living on a coupon offers people a chance to learn tricks and the art of couponing directly from a professional.
Clients interested can choose from a wide variety of options, each designed with keeping convenience and affordability in mind. As the goal of living on a coupon is to help people maximize savings, each service provided by living on a coupon emphasizes highly on the significance of being cost effective. Furthermore, the services provided are also innovative and effective in equal measure. The living on a coupon initiative makes use of the internet and there are various tools available that have been specifically created with the purpose of making couponing easier.
Maximizing Savings through Coupons
Despite the hysteria and general negativity that surrounds their use, coupons can be an excellent source of savings. The dwindling economy has immensely increased the prices of even basic goods and this has made it quite difficult for people on limited budgets to afford products they could before. However, with couponing, the financial strain can be vastly reduced. Coupons allow shoppers to not only afford goods they need, but also goods they want. Moreover, apart from benefiting from the monetary savings, shoppers can also stack up on goods and this can be particularly useful in times of rising prices.
About Living on a Coupon
Created by Jessica Hacker, living on a coupon is the ultimate source of couponing knowledge. By offering professional skills and knowhow, the initiative is unlike any other. For further information regarding Living on a Coupon, visit http://www.livingonacoupon.com. For latest deals and updates on how to maximize savings, visit http://www.livingonacouponsecrets.com.