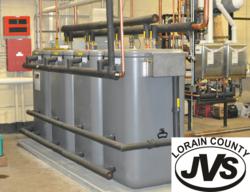 (PRWEB) May 30, 2013
The Lorain County Joint Vocational School (JVS) provides career-technical training for high school students as well as adults in Lorain County. This school was established in 1971 and holds a 10-acre campus. This school is one of the largest career-technical facilities in Ohio with students coming from Amherst, Avon, Avon Lake, Clearview, Columbia, Elyria, Firelands, Keystone, Midview, North Ridgeville, Oberlin, Sheffield-Sheffield Lake and Wellington. The high school annually serves over 1,000 students on their campus.
Lorain County JVS recently made the decision to implement the Sun Equinox solar thermal heating system at their facility, helping to cut down on costs for their hot water production. Kirk Chambers, from Chambers Control Company out of Swanton Ohio, managed the installation of the Sun Equinox at the site. Fifteen collectors have been installed on the roof of the school with 4 tanks and 2 heaters being installed in the mechanical room.
The Sun Equinox heating system was supplied by Solar Usage Now, out of Hamilton Indiana. This complete solar thermal heating system utilizes the ROTEX thermal storage tank in its design, making it one of the most efficient systems on the market today.