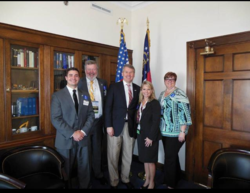 HR Strategies is proud to ease the HR pains of small businesses in the Atlanta area.
Duluth, Georgia (PRWEB) May 30, 2013
As a member of NAPEO (National Association of Professional Employer Organizations), HR Strategies had the opportunity to send Jim Beesley, CEO; Will Beesley, Vice President; Georgiana Britt, VP of Operations; and MariaElena Ayala, VP of HR/Client Services, to the 2013 Legal & Legislative Conference. According to the NAPEO site, this event offered 'two days of priceless updates' affecting the HR world. More than 25 PEO legal experts were on hand to discuss, give practical advice, and insider insight (through in-depth sessions) on the latest HR and compliance issues, laws and regulations. A new addition to this year's conference was a half day program held in the Capitol that included a federal update during a seated lunch, as well as presentations from prominent members of Congress.
The conference offered a multitude of educational sessions that encompassed a wide variety of important topics. Some of these topics included practical applications of healthcare, the cost of compliance for small businesses, PEO's and the Internet, DOL compliance, and the NLRB and PEO's. Furthermore, they attended meetings regarding immigration issues, new case law and state issues impacting PEO's, ethics, social media and privacy, and much more. Their representatives were able to bring back crucial information from meetings that showed an insiders' perspective on healthcare reform from the macro level to practical applications. Additionally, they sat in on an hour-long Q&A with a panel of experts who discussed questions regarding PPACA. This new information will continue to enhance HR Strategies' strategic operations.
HR Strategies' presence in Washington, DC afforded them the ability to meet with Congressman Rob Woodall from the United States House of Representatives. The congressman met with all four members of the HR Strategies group, talking with them for almost an hour. Representative Woodall's willingness to meet personally with HR Strategies shows his interest in what PEO's are doing for small businesses in America. HR Strategies is proud to ease the HR pains of small businesses in the Atlanta area.
HR Strategies' continued membership in NAPEO, along with their attendance at the 2013 Legal & Legislative conference, is just one way that they continue to be able to gain information and knowledge to stay at the forefront of the PEO and HR industry, and supply their clients with top-notch services.
About HR Strategies
HR Strategies provides the customizable HR solutions (including but not limited to payroll, benefits, workers compensation, tax administration, regulatory compliance, HR consulting, training solutions) and expertise of a large corporation's personnel department in an affordable and effective solution. HR Strategies enables clients to reclaim time, stabilize and reduce labor costs, and stay compliant with government regulations.