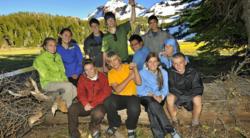 As Wilderness Ventures enters its 40th year of operation, the organization has successfully become the oldest and most experienced adventure travel company for young people.
Jackson, WY (PRWEB) May 30, 2013
Wilderness Ventures, the oldest and most experienced adventure travel program offering teen summer camps, offers unforgettable wildlife experiences for children and teens throughout some of the worlds' most vibrant wildlife habitats. Wilderness Ventures recently selected their 'top picks' for life-changing wildlife experiences for kids in 2013:
1. See Bears in Alaska with Wilderness Ventures: Denali National Park is a true "nature-lovers classroom" and is home to more than 35 different species of animals including the great Grizzly Bear. In addition to sea kayaking Prince William Sound, whitewater rafting the Matanuska River, backpacking, hiking, and more; 7th through 9th graders can learn about Denali's grizzly's while seeing them in person on Wilderness Ventures' Alaska Two Week expedition.
2. Swimming with Sea Turtles: The Hawaiian Islands are a haven for some of the planets' most fascinating sea life, including giant sea turtles. On this Wilderness Ventures Hawaii Kauai leadership adventure, kids have close encounters with the sea life surrounding the Big Island aboard a private catamaran. Surfing, sea kayaking, exploration of ancient ruins on the Na Pali Coast, and the chance to earn a PADI scuba diving certification are also part of the fun.
3. Witness the "Big 5" In Tanzania: Considered the African continents crown jewel, Serengeti National Park boasts hundreds of species of wild animals including lion, leopard, elephant, rhino and buffalo—also known as the Big 5. On Wilderness Ventures' Kilimanjaro Grand Earth Adventure, 9th through 12th graders learn about this spectacular ecosystem in addition to learning about the language and culture of the area, working with giraffes, climbing Mount Kilimanjaro, and more.
4. Discover Yellowstone and Grand Tetons by Horseback: Yellowstone and Grand Tetons National Park are home to both grizzly and black bear, moose, wolves, the American bison, and more. Discovering these two national parks by horseback gives children the chance to see the diversity of these ecosystems while experiencing a taste of the "Old West". On this spectacular Yellowstone Teton Horsepack leadership adventure by Wilderness Ventures, children raft thrilling whitewater, kayak pristine Yellowstone Lake, learn backcountry riding skills, in addition to horsepacking through this pristine wilderness.
5. Learn about the Endangered Species of the World: To have a personal wildlife experience, children need to look no further than their own computer. May 17th marked the 40th anniversary of the Endangered Species Act, but the celebration can live on as kids can find a way to make a difference to wildlife conservation in their own community. Kids can visit the U.S. Fish and Wildlife Service page to learn more about both domestic and international endangered species: http://www.fws.gov/endangered/
As Wilderness Ventures enters its 40th year of operation, the organization has successfully become the oldest and most experienced adventure travel company for young people. Their life-altering experiences in some of the world's most magnificent natural settings are crafted for young adults who are just beginning their experiences in the outdoors or teenagers who are accustomed to outdoor life. For young adults who are looking for fun and adventure in a non-competitive, supportive setting, Wilderness Ventures' expeditions are an ideal option and offer life-changing opportunities to see the planets' most diverse wildlife.
About Wilderness Ventures:
With more than 21,000 student alumni, Wilderness Ventures has pioneered outdoor adventures for young adults and has paved the way for youth travel around the world. Their 40 years of experience, unwavering values of community, inter-personal growth, wholesome environments, safety, wilderness education, discovery, conservation, and exploration have led to their unmatched and trusted reputation. Wilderness Ventures currently holds special permits to operate their teen adventure camps in 20 National Parks and 17 designated wilderness areas with special permits.