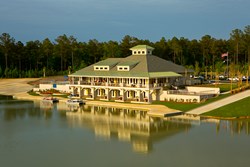 The Lake Club
Bluffton, South Carolina (PRWEB) May 30, 2013
Real Estate Scorecard celebrates the grand opening of Hilton Head Lakes newest amenity, a 14,000-square-foot Lowcountry-style Lake Club designed by Icon Architecture & Planning. Hilton Head Lakes is a 4,700-acre coastal South Carolina community located on the mainland, approximately 19 miles west of Hilton Head Island.
Hilton Head Lakes is a coastal South Carolina community monitored by Real Estate Scorecard. This $4-million amenity was built for its property owners enjoyment without imposing debt on property owners. The elevated resort-style swimming pool, ground floor fitness center, sandy beach and game rooms overlook 155 acres of interconnected lakes which weave throughout this Low Country real estate development. The Lake Club's day dock provides property owners easy accessibility by boat to enjoy the clubhouse for social clubs, a relaxing day by the pool and sunset celebrations. Floor to ceiling windows and vaulted ceilings add to the spacious feeling of this two story sun-filled building.
Adjacent to the swimming pool is a screened entertainment area and casual poolside cafe. Lunch is served daily at The Lake Club. Additional amenities already in place include:
Tommy Fazio public golf course
Area's best 36-acre practice facility offers target greens, bunkers and multiple practice greens
Par 3 Short Course
Full-service golf shop
Cafe' at The Golf Club
Miles of walking paths
Two waterfall entrances
Baby Boomers are attracted to Hilton Head Lakes to find affordable new homes and to avoid low lying flood zones and high hurricane risk coastal neighborhoods. This Low Country real estate development has lower homeowner's insurance rates, low HOA fees and is in close proximity to the Interstate 95 north and south bound corridor making it convenient and easy to spend the day in nearby Savannah or Charleston.
The opening of the Lake Club is the first phase of the comprehensive resort-style atmosphere planned. Phase two includes interconnected swimming pools, a lazy river, water slides, kid's Splash Zone, basketball, and tennis courts. Hilton Head Lakes new Lake Club will no doubt bring its property owners even closer together as they enjoy their slice of paradise at this coastal South Carolina community. Lakefront property owners have the option of having a private boat dock behind their home.
Still in the early stages of development, approximately 70 homes have been built to date of the 1,800 planned. New affordable homes under $200K are continuously being built by Citizen Homes and can be toured at the Hilton Head Lakes Model Park. The homes are energy efficient and spacious. Developers Joe Brinn, Gary Ingersoll, Ralph Teal, Gilford Edwards and Stratford Land have added tremendous value to the community without imposing debt upon Hilton Head Lakes property owners. HOA fees remain unchanged ($100 a month).
About Real Estate Scorecard:
Real Estate Scorecard writes unbiased real estate reviews providing in-depth information about popular gated communities in Florida, Georgia, North Carolina, South Carolina and Tennessee, all in an effort to help people discover where to retire in the Southeast.
Website address: http://realestatescorecard.com