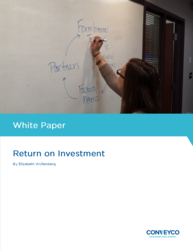 Bristol, CT (PRWEB) May 31, 2013
Conveyco, an integrator of Automated Material Handling Systems and Design Build Solutions announces today additions to the Resources Section on the Conveyco website. This expansion builds momentum upon the Conveyco rebranding initiative launched in 2012 by offering clients more resources and by working to elevate Conveyco as a recognized thought leader in the Integrated Material Handling Industry.
"Over the past year we have implemented extensive rebranding of our company. One of the major goals of this process was to shape the messaging that we send and the manner in which we interact with existing and prospective clients", said Victoria Wollenberg, Business Development Coordinator at Conveyco. "The addition of the Resources Section on conveyco.com is the first stage in a multi-step process which we will continue to unveil over the next several months."
The Resource Section of conveyco.com currently features Material Handling/Supply Chain related Case Studies, a Knowledge Center, a Glossary, and Industry Resources. The Resources section will be a frequently updated area of the website and visitors are encouraged to return for newly added content.
The Case Studies Section currently features a small sample of solutions implemented for select clients on the topics of Order Selection, Warehouse Control Software (WCS), Sortation, and Palletizing. We will be adding new clients, technologies, and solutions over the course of time to more fully illustrate recent successes as well as those amassed over the company's rich 35 year history. "It is not only important to us to be known for the "Good People" we have on our team but equally as important for us to illustrate to our industry the "Great Solutions" these people come up with as part of the Conveyco team. These solutions benefit our clients and their organizations," said Ron Lavoie, Systems Engineering Manager at Conveyco.
Also featured on the site are whitepapers which are located under the Knowledge Center tab. The current whitepaper topics are: Design/Build, Warehouse Control System (WCS), Palletizing, and Part 1 of our Driving Maximum ROI series. Additionally under the Resources tab, a glossary is provided, which consists of industry definitions and an Industry Resources tab where you will find informational sites that pertain to the Material Handling and Supply Chain sectors.
Conveyco would like to hear from you. Are there additional topics that you would like addressed in the Resource Section of our website? Please submit them at v(dot)wollenberg(at)conveyco(dot)com.
Conveyco (http://www.conveyco.com), a material handling systems integrator, with a team of best-in-class engineering talent, works closely with its supply chain clients to design original, reliable, street-smart solutions that help them overcome their toughest challenges in the movement, storage, control and protection of materials and goods throughout their manufacturing and distribution operations. From problem definition to implementation, Conveyco's collaborative work ethic enables its clients to achieve their goals for enhanced profitability and to compete more successfully within their industries.