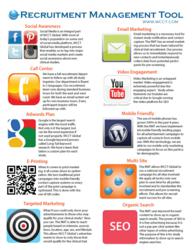 The part where many fail is how to pinpoint and capture contacts from all advertising avenues.
Costa Mesa, CA (PRWEB) May 30, 2013
WCCT Global, a contract research organization headquartered in Orange County, California, announced today that they offer a solution for companies that are having trouble recruiting for their clinical trials. WCCT Global has been known for their recruitment tactics for all types of clinical trials. The process that WCCT Global has established for recruitment is the Recruitment Management Tool (RMT). The RMT has been developed to take any clinical study and make it known through multiple avenues to possible participants. The beauty of the RMT is it enables WCCT Global to show advertisements only to individuals that may qualify for the study. This allows for a very efficient campaign while minimizing the amount of resources spent. There are 10 components that make up the RMT. Each section of the RMT has been developed to work in harmony with each other, which maximizes the efficiency of each clinical trial recruitment campaign that uses the RMT.
The RMT is not only used to recruit for one site, but WCCT Global has been able to use the RMT to recruit for multiple sites throughout the U.S. The RMT allows WCCT Global to manage an entire recruitment campaign for sponsors and collect all data for easy reporting. WCCT Global's Digital Media & Marketing Manager Matt Miller stated, "It is important to know where and how to advertise clinical trials. The part where many fail is how to pinpoint and capture contacts from all advertising avenues. The RMT uses an optimized plan for all advertising to capture and retain as many possible participants as possible."
More about WCCT Global:
WCCT Global is a multi-site, full-service global contract research organization (CRO) of outsourced early drug development and late phase services to the pharmaceutical, biotechnology and medical device industries. The WCCT Global vision, "With compassion for people, we strive for tomorrow's therapies to be available today" truly exemplifies the focus and reason for our cutting-edge work, both in our clinics and throughout our operations. As a drug development partner, WCCT Global collaborates with domestic and foreign innovator companies who need regulatory program management, data management and strategic consulting support, with an emphasis on overseeing and executing trials in special disease populations, pediatric populations, ethno-bridging, and cardiac safety. WCCT has extensive experience with healthy volunteer studies including First-in-Human (FIH), as well as specific therapeutic expertise in Allergy, Asthma, HCV, Ophthalmology, Oncology, Renal, and Vaccines.
If you would like to request more information on how the RMT can work for your clinical trial recruitment, CLICK HERE.