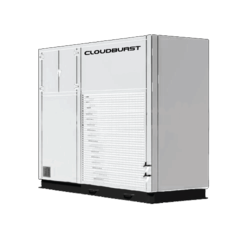 Water will become the new oil, and unlike oil, life without water is not possible
Fayetteville, NC (PRWEB) May 31, 2013
The Cloudburste line of products for commercial use follows the Dewpointe models for home and office use. The patented designs employ the highest quality U.S. materials to ensure dependability, reliability, serviceability and long-life. Each CLOUDBURSTE® meets or exceeds every major international testing standard including UL, CE, FCC, FDA, NSF, CSA and HACCP.
All models of CLOUDBURSTE® are protected by one of the most premium manufacturer's warranty in the world which includes: up to 5 years parts replacement, 1 year labor, and 10 years on the compressor/refrigeration system.
The Cloudburste line has received widespread international acclaim as one of the leaders in alternative sustainable water technologies. Each CLOUDBURSTE®: is custom engineered and manufactured to exacting specifications for each location and customer's needs and are "custom tuned" for each geographic location to maximize water production and minimize energy consumption. In these times of trying to meet Net Zero Water and Net Zero Energy, the Cloudburste line of products helps to meet these criteria while solving the issue of water shortage and contamination.
This year has seen a marked increase in the number of the world's largest companies reporting on their water usage, on the risks that water presents, and on their responses to that risk. The 2030 Water Resources Group predicts that the demand for water will outstrip supply by 40% by the year 2030 and that closing this gap could cost as much as $50 to $60 billion a year for twenty years. As growing demand for water from industrialization and population growth is compounded by climate change and growing uncertainty of supply, the global economy will be reoriented towards businesses that take active stewardship of water resources and build resilience to shortages and floods. The companies that succeed will be those that consider water with the strategic importance it deserves and take steps to transform their business now.
Today, 783 million people still remain without access to an improved water supply. Many more use water that is unsafe to drink. Water security will be of growing importance. Cloudburste line of products can help to solve this problem of unsafe drinking water and water shortage.
Diana Potts, founder of G and E Partners, LLC has been providing advice to green technology firms for a number of years and has built a reputation in the industry for finding the solutions to current problems and issues for the federal government and Fortune 500 firms. Potts says that, "The Cloudburste product line is not the answer to all water issues but it is definitely part of the solution to the growing issue of our global water shortage both here in the states and overseas."
To learn more about how G and E Partners and how its air-to-water technology is reforming the availability of clean water, visit http://www.altsourcesh2o.com.
About Diana Potts
With more than 20 years of experience, Potts founded an environmental consulting company, G and E Advisor, in 2007 and has gained a reputation as one of the foremost experts on water and energy issues especially concerning remediation and disaster response clean up. Potts was also one of twenty top environmental leaders chosen to join a Green Sustainability panel at the US Pentagon and has received two Congressional Medals for her environmental efforts as well as a National Leadership Award.