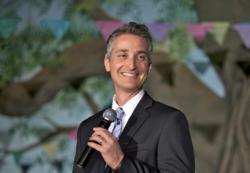 The company is entering an exciting growth phase. The goal is to expand operations without harming the warm work environment that has distinguished its family-like culture.
Carlsbad, CA (PRWEB) May 30, 2013
Welk Resorts recently hosted motivational speaker Scott Greenberg to give the closing keynote to 150 executives at the Welk company summit at the Hyatt Aviara Resort in Carlsbad, CA. The event was attended by staff from four Welk properties located in San Diego, Palm Springs, Branson and Cabo San Lucus.
Greenberg's presentation was entitled, "Survival of the Finest: Thriving During Times of Change." The program focused on ways to adapt to change while preserving the company's values.
"The company is entering an exciting growth phase," says Greenberg. "The goal is to expand operations without harming the warm work environment that has distinguished its family-like culture."
In addition to managing its four resorts, Welk is now developing new properties in Hawaii, Colorado and the Lake Tahoe Area.
During his 60-minute program, Greenberg discussed the mental and interpersonal factors that make change difficult for organizations. He also emphasized the importance of customer service, a strong sense of purpose and maintaining the company's core values.
About Scott Greenberg
Scott Greenberg is a motivational speaker specializing in resilience, leadership and peak performance. His personal battle with cancer and inspiration from his "Schindler's List" holocaust surviving Grandmother are the basis for some of his motivational stories. Since 1993, Scott has spoken to a variety of organizations looking to improve their leadership and work environment. Clients include Nike, The Wyndham Hotel Group, Cargill International, the United Nations and the U.S. Air Force. Scott has written three books on leadership and is a contributing author to "Chicken Soup for the College Soul." In addition to 20 years in professional speaking, Greenberg is also an award-winning franchisee with Edible Arrangements. For more information about Scott Greenberg, visit http://www.scottgreenberg.com or call 1-800-450-0432 (or outside the U.S. 1-818-785-5202).
About Welk Resorts
Founded in 1955 by the late entertainment icon Lawrence Welk, Welk Resorts is one of the most respected independent brands in the vacation ownership industry today. Welk remains a privately held, family-owned company led by President Jon Fredricks, who is the grandson of the late Lawrence Welk.
Fredricks has established the Welk Resort group of properties as top vacation destinations. With more than 20 years of experience in hospitality, real estate and finance, he has helped the company realize unprecedented growth by fostering profitable expansion projects and internal corporate growth. The company has developed and/or operated more than 1,100 luxury vacation units, villas and hotel rooms in San Diego; Maui, Hawaii; the Palm Desert area; Branson, Missouri; and Cabo San Lucas. The corporate offices are located in San Marcos, California.
The mission of the company, "Our family creates vacation memories to cherish for a lifetime" is reflective of the strong company values, which promote both tradition and family. This mission and commitment to guest and owner service and resort quality has led Welk Resorts to be among the highest rated resorts internationally by owners and guests. TripAdvisor ranked Welk Resorts Sirena Del Mar a Top 25 Resort in Mexico in 2012.