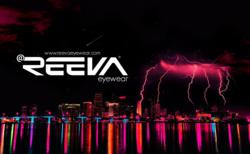 They would have never imagined that within minutes of their launch they'd be running to their webmasters for help
Miami Beach, Fl (PRWEB) May 31, 2013
After Reeva Eyewear launched their site on the 22nd of this month milestone accomplishments for the Miami based Italian eyewear company led to a crash in their server. During a private interview and after a year and a half in the making Alex Ovadia, Reeva's lead designer and marketing director said "This is but a dream come true. I never expected that within minutes my site would crash upon opening!"
Reeva's focus on electronic music and eyewear has made a staggering impression on the music scene. "I always saw people wearing "Guicci, Ray Ban, Dolce & Gabbana or whatever it may be while out at nightclubs or festivals. It didn't look right or make sense. Here cool people are partying having a blast and they're wearing outdated stiff glasses. Reeva's feel, design, and vivid colors match the way you feel inside when you listen to the music you love outside." Alex mentions.
Now finally after the first go around. They've increased the capacity of our server and hope for the best in their next launch. Their Mido collection has been a hit. They've sold countless pairs doing best with their wild color schemes. "We are blessed to have made it this far. We've endured many hardships along the way. Nothing has come easy and for this I am grateful."
There's much soul behind Reeva. The name itself stems from the french "rêves", to dream. So for those at Reeva it was a shock to such traffic in such a short amount of time.
From the moment he could walk Alexandre was playing with glasses. For the most part at this age breaking them he says while grinning. This on the other hand gave him the need to want to build stronger than the empire behind him. Reeva is the first brand of eyewear that has dedicated itself to electronic music and since other have followed suit.
"It's a compliment to see that others too want to make the connection between eyewear and music. It's a niche I've been craving to expose through my adolescence listening to monocles like Tiesto, ATB, and basshunter etc. Finally I've been able to combine both my loves and express myself in what I know best--eyewear."