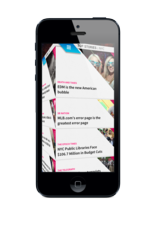 It's like putting an 'interesting' filter on the Internet.
Brooklyn, NY (PRWEB) May 30, 2013
Today, SPUN, a startup based in Brooklyn, N.Y., announced the new release of SPUN: Top News & Culture, as well as a key content partnership with Thrillist. SPUN's announcement comes six months after the successful launch of their local news app, SPUN: City News, which was available in select U.S. cities. SPUN's new version expands the app to worldwide coverage and features a dramatic redesign of its acclaimed 3D interface.
"SPUN distills only the most relevant and outstanding stories from the hundreds of millions published on the Web. It's like putting an 'interesting' filter on the Internet," said CEO Andy Hunter. The app determines relevance based on a user's location and interests, and becomes more personalized with each use.
"SPUN is the easiest way to discover outstanding, funny and informative content on your iPhone," said SPUN's co-founder and COO Scott Lindenbaum. "Partnering with innovative publishers like Thrillist helps make that possible."
Users of the app can find trending national news, local content and fascinating stories from smaller sources they might have otherwise missed.
"We are thrilled to be a part of SPUN 2.0's release," says Paul Josephsen, VP of Strategic Marketing Partnerships for Thrillist Media Group. "We take great pride in being a trusted voice on where to go, where to eat and where to drink both locally and nationally and this partnership provides SPUN users with a great way of discovering what's happening around them."
SPUN features a critically acclaimed, revolutionary 3D user interface. "SPUN's interface is delightful and simple. We've brought the learning curve down to zero. It's fun to interact with and feels like the future," said Lindenbaum.
"While today there are newspapers, magazines, television stations and websites, pretty soon most content will be consumed on mobile devices," explained Hunter. "That's a revolution rife with opportunity. From delivering local restaurant reviews to foodies, to showing Cannes videos to film fanatics, it's all about helping people find content they'll love."
About SPUN:
SPUN's goal is to reinvent content to meet the potential of the mobile age. We are a startup in Brooklyn, N.Y.
Download the app: https://itunes.apple.com/us/app/spun-city-news/id575348873?mt=8#
On Twitter: @spun