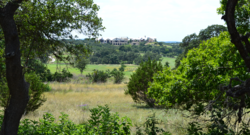 We've got . . . the largest and broadest offering of new product we've ever offered and based on early indications, we think it's going to be a huge success.
Boerne, TX (PRWEB) May 30, 2013
Boerne-based DH Investments announced several new offerings of properties in its Cordillera Ranch neighborhood northwest of San Antonio. Low taxes, improving job growth, and the Eagle Ford boom have created a real estate boom for the Lone Star state in what The Wall Street Journal recently tagged the "Texas land rush." New land development stagnated during the recession as demand for new lots and homes disappeared. Due partially to the rush, the market is now on an upward curve but without the necessary inventory to handle the sudden return of demand, leaving lot inventory at its lowest level since 2008. "Lack of new lots being produced during the downturn combined with rebounding sales has put the area in a pinch for new lots," states Charlie Hill, Vice President of Development for Cordillera Ranch. "We've got a pipeline of numerous different lot offerings at a wide variety of sizes and prices in 2013. It's the largest and broadest offering of new product we've ever offered and based on early indications, we think it's going to be a huge success," adds Hill.
Preparing for the Rebound
Although Cordillera Ranch wasn't developing a lot of new sections during the downturn (only delivering two new sections in the past four years), there hasn't been a lot of sitting and waiting. "In our business you don't sit idle, even in slower times. You use those inevitable periods to refine future plans and prepare to capitalize when the market turns – because it always does," noted Hill. Judging by the unique housing product being delivered in 2013 and 2014 in the community, it's clear that they spent that time during the downturn refocusing on product mixes, diversity and unique offerings that work with today's buyer. "There continues to be great demand for the ultra-luxury home and one-of-a-kind view. Just look at the success of selling out all of Phase 1 at Summit Pass during the true bottom of the downturn. Those were 1-2 acre lots averaging in the mid-$500k's. These are people that want the absolute best view, trees and site that can be had and that's what Summit Pass had to offer," added Barry Denton, Director of Real Estate Sales at Cordillera Ranch. So the next step is to bring on a new phase of premier view properties, and there is a new section of 25 lots coming online this year, named Bear's Ridge (after golf course architect Jack Nicklaus's Golden Bear moniker). Bear's Ridge lots will offer panoramic views in all directions and satisfy buyers looking to have the best-of-the-best.
What's New?
Adding lots is not the only solution; broadening the offering is also a critical element. "In the early years at Cordillera Ranch before the club was added, lots generally were in the $50k-$120k range; however, as most of the areas of development in recent years have been concentrated on either golf course frontage, hilltop view or river frontage, the premiums that these properties command has driven us into a narrower band of lot product," adds Hill. With lot prices averaging north of the $250k across the community in recent years driven by the size, location and unique view attributes of these phases, diversifying the mix to add some product in certain areas that meets the needs of buyers in the $100k-$150k range is also a focus for some of the new sections. "It's getting back to a diverse product mix. Of the eight new distinct enclaves with 141 lots to be developed in the next two years, two of the eight are geared at broadening the lot offerings with some smaller lots in the ¾ acre size that range from just below $100k to $150k," says Hill. The other six enclaves feature traditional high-hilltop, water-front, golf-front and premier-view lots that will range from the $200k to $700k. It's not a change in product; it's a diversification and broadening of lots and homes. "We have so many young families looking to move to Cordillera Ranch to enjoy the beautiful scenery and unique lifestyle while staying in the acclaimed Boerne school district; however, they may not need the 'million dollar view.' It's more about location, lifestyle and luxury, but doing it all in a new home that may be less than $700,000. This is the first time in years we have had this product and we're excited about its potential; based on the pent up demand we've already gotten we think it's going to take off." The same high quality of community design, home architecture and amenities that elevated Cordillera Ranch to its designation as a premiere hill country community will be evident in these new sections. Boerne ISD is also working on identifying a site in Cordillera Ranch for a future elementary school in one of these new sections, which will further enhance the lifestyle for young families in the community. Formal announcements about the possible school are expected later this year.
Other new areas will include a second release of Di Lusso Villas which will feature Tuscan-inspired designs by renowned architect Roy Braswell. This section along with a section of new estate lots will feature the first new release of golf-frontage lots in several years. Additionally, for the first time in almost 10 years Cordillera Ranch will release 3-acre lot product in its new Cordillera Springs section of the community.
Home construction activity in Cordillera Ranch is on the rise as well with 29 new custom homes under construction and an additional 38 homes in design review process with ARC. Additionally, both lot and home sales year-to-date through April 2013 are up 70% over the same period in 2012 and there were another 13 lots and resale homes under contract at the end of April. This surge in demand is welcome change in the real estate market, and one that Cordillera Ranch is prepared to satisfy with these planned new sections in 2013.