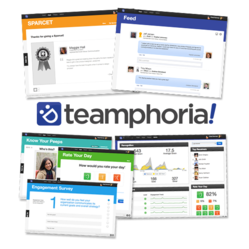 Not only is Teamphoria quick and easy to interact with, its real-time reporting and analytics tools add tremendous value to leaders wanting to gain real-time insights into their workforce and culture.
Charleston, SC (PRWEB) May 30, 2013
SPARC announced today it has released Teamphoria, an Employee Engagement Platform (EEP) designed to help organizations create, build, and measure a thriving company culture. Teamphoria is a suite of apps, including Sparcet (employee recognition), Rate Your Day, Engagement Checkup, Vent, Know Your Team, Request for Feedback, Suggestion Box, and Performance Management, along with many more in the queue. The apps build on the five key elements of employee engagement: Recognition, Communication, Camaraderie, Performance, and Culture. Teamphoria is available via online subscription for $4 per employee/per month.
Teamphoria delivers a suite of apps that provides a workforce with the tools needed to increase communication, provide peer-to-peer recognition, and build the camaraderie that high-performing teams have. Data from Teamphoria gives leaders the valuable insights needed to make strategic decisions based on their own organization's engagement level and culture trends. These workplace "sensors" indicate if an individual, team, or entire organization is feeling positive or negative about work, and provides real-time analytics on aspects of engagement.
Teamphoria is the world's first enterprise social application to put a focus on an individual's teammates instead of themselves. Whether it's electronic recognition, the gamified Know Your Team app, or the Engagement Checkup, each part of Teamphoria is designed to help organizations develop into Stage 4 and 5 organizations that focus on "We" and "Us" rather than the "I" and "Me."
"Stage 5 organizations are about the team, and many enterprise social apps get it wrong by focusing on the individual. Teamphoria offers interactions in areas that require the user to recognize teammates, get to know them better, and explore their influence within an organization," said John Smith, Teamphoria Product Owner and SPARC's Chief Evangelist. "Teamphoria is quick and easy to interact with, and its real-time reporting and analytics tools add tremendous value to leaders wanting to gain real-time insights into their most important asset: their workforce and culture."
As a Best Place to Work in SC winner and WorldBlu Most Democratic Workplace winner, SPARC understands the impact culture can have on the success of an organization. Leaders everywhere are searching for ways to create and build successful cultures, so Teamphoria was created to package some of that magic for the rest of the world. This unique approach to employee engagement makes Teamphoria an effective way to jump-start, manage, and improve company culture.
Previously known as SPARC'D by early adopters and beta program participants, Teamphoria is now available for subscription at $4 per employee/per month beginning today. Organizations looking to improve engagement with recognition can sign-up for Sparcet, the employee recognition app within Teamphoria, for $1 per employee/per month.
Employee engagement and a thriving company culture starts at teamphoria.com.
About Teamphoria
Teamphoria is an employee engagement platform (EEP) comprised of multiple apps that create, grow, and measure an engaged workforce. It's the first platform to provide real-time engagement and allow organizations to improve culture organization-wide. The apps are categorized into the five key elements of employee engagement: recognition, communication, performance, camaraderie, and culture. Learn more and get started at teamphoria.com.
About SPARC
SPARC is a software product development company creating engaging, forward-thinking technology while putting customers, employees, partners, and the community first. With offices in Charleston, South Carolina and Washington, D.C., SPARC provides software development services for the government and commercial sectors, and develops commercial software products for the executive leadership, human resources, green energy, big data analytics, and mobile markets. Come by for a tour and see SPARC's award-winning culture for yourself, or learn more at sparcedge.com.