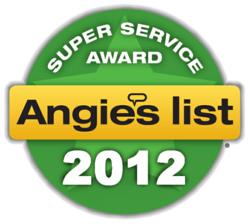 Award winners are the cream of the crop when it comes to providing the best customer service.
Jacksonville, FL (PRWEB) May 30, 2013
McGowan's Heating and Air Conditioning, a Jacksonville AC repair, service and installation company in Northeast Florida, is proud to announce its selection as an Angie's List Super Service Award winner in the heating and AC category for 2012. The Super Service Award is the highest honor given each year to companies by Angie's List, the nation's leading provider of consumer reviews on local service companies. The award goes only to businesses that have achieved and maintained a superior service rating throughout the past year.
Company President Tom Regula attributes this coveted recognition to McGowan's team of professionals. "Everyone in our company, from engineers to technicians, comes to work each day ready to deliver the highest possible level of service to our customers. We know how important it is to them to keep their homes and businesses comfortable and their indoor air clean, so we do all we can to provide the services they need promptly and professionally."
Angie's List is a rating and review site where consumers share their experiences with local businesses and where millions of members look for information before hiring a service provider. According to Angie's List founder Angie Hicks, "Our Super Service Award winners are the cream of the crop when it comes to providing the best customer service. It's a select group of companies rated on Angie's List that can claim the exemplary customer service record of being a Super Service Award winner." Fewer than five percent of the companies on Angie's List meet the requirements to be considered for the award.
McGowan's Vice President Phyllis Regula cites the importance of the award as an affirmation of McGowan's focus on customer satisfaction. "It's a special honor to earn an award based on reviews from actual customers for high-quality customer service," she says, "because that's the most important thing we provide."
About McGowan's Heating and Air Conditioning
McGowan's Heating and Air Conditioning, located in Jacksonville, Florida, is an award-winning firm providing outstanding heating and cooling solutions to residential and commercial customers in Northeast and North Central Florida. For more than 40 years, Jacksonville residents have relied on McGowan's for expert AC repair, service and installation, provided by a team of technicians dedicated to professionalism and customer satisfaction. For more information, please visit mcgowansac.com or contact:
McGowan's Heating and Air Conditioning
Phone: 904-278-0339
4850 Collins Road
Jacksonville, Florida 32244