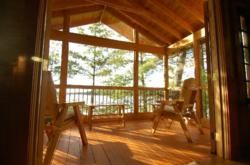 Our current goal is to make The Lodge at Pine Cove the finest speciality lodge in Ontario.
Noelville, Rainbow County Ontario (PRWEB) May 31, 2013
Specializing in wilderness vacations and outdoor adventure packages, The Lodge at Pine Cove (http://www.frenchriver.com), a rustic, yet upscale Ontario resort nestled on the banks of the historic French River is pleased to announce a number of exciting new additions and updates at the lodge for the 2013 season. One of the biggest changes at The Lodge at Pine Cove, which is located in the heart of central Ontario's Rainbow County tourist region, is the completion of two new luxury cottages. Other updates at the Lodge include the addition of several new accommodation and adventure packages, new resort activities and events, as well as some popular workshops and retreats that will be offered again this year.
The Lodge at Pine Cove's new luxury cottages, the David Thompson and the Paul Kane, are both large, one bedroom cottages, built to the same superior standards, and with the same attention to detail and lavish amenities found in all the Lodge's cottages. Both of the new cottages are constructed almost entirely of natural materials, in locations that ensure privacy. They have full kitchens, exceptionally comfortable king or twin beds, wood stoves, screened in porches and magnificent views. The David Thompson Cottage is perched high above the main lodge building and provides a fabulous view of Wolseley Bay. It is the only cottage on the property that has its own private trail. It is ideal for cyclists and for honeymooners seeking total privacy. Another special feature of this cottage is its luxury copper bath tub where one can soak in privacy while enjoying breath-taking views. The Paul Kane Cottage is located in a pristine natural setting close to the water. It has two screened in porches, providing stunning views of the bay from multiple vantage points. This cottage would be perfect for those who enjoy being completely surrounded by nature, with the lake close at hand for swimming and paddling.
Launched recently, The Lodge at Pine Cove's new water taxi carries canoes/kayaks and guests from the lodge to beautiful paddling, picnicking and hiking locations. The twenty-four foot boat was custom designed for The Lodge at Pine Cove to allow guests to easily access parts of the river they may not otherwise be able to get to. It has proven to be very popular with guests.
One of the new packages that The Lodge at Pine Cove will be offering in 2013 is the Asado Feast on the Beach package. This thoroughly unique package combines an evening of delicious food and great company, with upscale cottage accommodations. Join Chef Ignacio as he creates an Argentinean feast served by the water's edge that includes several traditional dishes and features meat slowly grilled over an open flame. The Asado Feast on the Beach package includes accommodations for two nights, breakfast, and the Ascado Dinner on the Saturday night.
The Lodge at Pine Cove are offers a variety of outdoor activities for different skill and fitness levels. A new "soft adventure" is the guided Morning Mist Trip by kayak or canoe with a hamper breakfast or gourmet picnic lunch. An extremely popular Lodge event that will be offered again this year on Canada Day Weekend is the Paddle to the Pow Wow. Guests at The Lodge at Pine Cove can purchase a Pow Wow package, with or without lunch. The package includes a trip in Lodge's 36 foot replica Voyageur canoe to celebrate with the Dokis First Nations.
For resort owner Alex Strachan, The Lodge at Pine Cove is a labour of love. "When we began redeveloping The Lodge at Pine Cove several years ago, our goal was to create a rustic, but completely modern, eco-friendly resort that specialized in nature tourism and adventure-based vacations - a unique lodge where guests could have an unforgettable wilderness vacation experience while enjoying the very best in fine dining, comfortable accommodations and exceptional service. We are continually upgrading and making improvements to the lodge, and adding new packages and events to enrich our guests' vacation experience. Our current goal is to make The Lodge at Pine Cove the finest speciality lodge in Ontario," says Strachan.
About The Lodge at Pine Cove: Ideal for romantic couples getaways, family vacations, fishing and adventure vacations, resort weddings and corporate retreats, The Lodge at Pine Cove is a rustic yet elegant full service lodge that is located on the majestic French River in beautiful Rainbow Country, Ontario. Surrounded by pristine wilderness, the lodge's charming waterfront accommodations include fully equipped studios, 1, 2 and 3-bedroom cottages that boast handcrafted wooden furniture, comfortable king or queen-sized beds, and screened porches overlooking the water. Some cottages have a full kitchen and wood-burning stove. A premier Ontario eco/adventure resort area destination, with 2,600 feet of waterfront on the historic French River between picturesque Wolseley Bay and Pine Cove Bay, The Lodge at Pine Cove offers fine dining, complimentary recreational facilities, outdoor packages, seasonal cottage rentals, and affordable shared cottage ownership opportunities. Call 705 898-2500 to book your Ontario resort getaway at The Lodge at Pine Cove or visit http://www.frenchriver.com for more information.
Contact Information:
Alex Strachan
The Lodge at Pine Cove
PO Box 91
Noelville ON P0M 2N0
705-898-2500