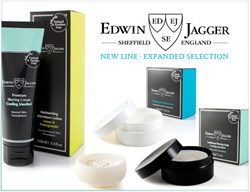 Toronto, Canada (PRWEB) May 31, 2013
Fendrihan sees a regular influx of products into its store as men's grooming manufacturers continue in their efforts to anticipate customer needs and come up with products to sate them. This time, eShave and Edwin Jagger are the manufacturers launching new products in that eternal endeavour.
Since its foundation in 1996, eShave has specialized in producing both shaving accessories and shaving supplies. However, it has chosen 2013 as the right time for a bold step onto unfamiliar ground, releasing a number of grooming products that bear little connection to its previous offerings. Most of these products are made in either England or France, intended to cater to a startling range of eShave customers' potential personal care needs. Said products include bath soaps, deodorant, and revitalizing cream for the eyes, but also range from men's hair care to skin care and face care. Furthermore, eShave is also adding a light and refreshing blend of citrus and mint called Orange Mint to its scents collection.
In contrast to eShave, Edwin Jagger's efforts are less ambitious but no less excellent. It is introducing two scents called Cooling Menthol and Limes and Pomegranate to its collection, plus products made using these scents. At present, its soaps and its shaving creams are available in both scents, while aftershave is only available in the second. In addition to these products, Edwin Jagger is also launching a fragrance-free pre-shave lotion plus three handmade English shaving brushes made using badger bristles.
Fendrihan is making these products available for purchase to its customers. Furthermore, it should be mentioned that Edwin Jagger is discontinuing its Sea Buckthorn scent, meaning that fans should consider stocking up before supplies run out.
About Fendrihan:
Fendrihan is the premier Canadian online destination for shaving and grooming supplies for men. With a comprehensive product range that includes traditional grooming staples, hard-to-find products from around the globe and some of the most reputed names in gentlemen's personal care, Fendrihan's selection appeals to veteran wet-shavers and men of any age looking to elevate their daily grooming rituals. The Fendrihan catalog also includes fine writing instruments and European leather accessories that offer organization and clever convenience demanded and appreciated by their customers.