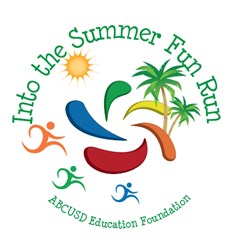 Cerritos, California (PRWEB) May 31, 2013
Broadview Mortgage has joined over 50 local businesses and community agencies sponsoring the ABCUSD Education Foundation's inaugural Into the Summer Fun Run scheduled for Saturday, June 22, 2013 at L.A. County Regional Park, 19700 Bloomfield Avenue in Cerritos.
All proceeds from the event support the ABCUSD Education Foundation ensuring that all ABC students and all schools succeed. The event features a 5K run/walk starting at 7:45 a.m., a 2K run/walk starting at 9 a.m. and a wellness fair from 7:00 a.m. to noon.
Entertainment includes Urban Xtreme featured on the Disney Channel, The School Tour and a District-wide band. The wellness fair will include local vendors and a kid's fun zone and free giveaways, including bike helmets.
Food trucks will also be on-site. Free health and dental screenings will be provided as well.
2013 ABC Into the Summer Fun Run Sponsors include: Platinum: L.A. County Parks & Recreation Department. Silver: Kaiser Permanente Downey; Image 1 T-shirts & More; City of Cerritos. Bronze: L.A. County Board of Supervisors Don Knabe; LBS Financial Credit Union; A.1. Entertainment; Atkinson, Andelson, Loya, Rudd & Romo; The School Tour/Urban Extreme. Friends of ABC Education Foundation: Broadview Mortgage; Cerritos Center; Sports Authority; City of Artesia; City of Hawaiian Gardens; Browning Motors/Cerritos Acura; ABC Niemes Elementary School; California Educational Centers; Sheraton Cerritos Hotel.
Community Sponsor: College Hospital; Global Culture Education Foundation; La Palma Intercommunity Hospital; Road ID; ABC Federation of Teachers; Dr. Gary Smuts; The Irving I. Moskowitz Foundation; ABC Board of Education Member Olympia Chen; ABC Academic Services/Magnet Schools; ABC Fiscal Services; ABC Burbank Elementary School; A Bright Pool & Spa Service; Rotary Club of Cerritos Foundation; L.A. Machinery Movers; First Choice Bank.
Media Sponsor: Los Cerritos Community Newspaper Group.
Family Sponsors: ABC Special Education Advisory Committee; ABC Gonsalves Elementary School; ABC Stowers Elementary School; ABC Tracy High School.
Wellness Fair Participants include: Dole Foods; Masada Homes & Helpline Youth Counseling Services, Inc.; YES Sports; Lakewood Orthodonist; JBA Institute; Tri-City Regional Medical Center; Ostrow School of Dentistry of USC; Lestonnac Free Clinic; L.A. County Department of Public Social Services; California Highway Patrol; L.A. County Department of Public Health; NAMI; Alternative Options; CareMore; Indian Pharmacists Association and Artesia, Cerritos, Lakewood troops of Girl Scouts.
Sponsorship opportunities are still available. Volunteers are needed as well.
The ABCUSD Education Foundation was founded in February 2012 to support district programs in jeopardy due to budget cuts.
For more information please contact Terri Villa-McDowell at (562)926-5566 ext. 21150.