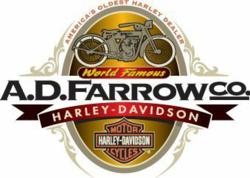 Columbus, OH (PRWEB) May 29, 2013
A.D. Farrow Co. Sponsored OSU Athlete finishes last season
Each year A.D. Farrow Co. Harley-Davidson of Columbus, Ohio sponsors an athlete at The Ohio State University as a recipient of its permanently endowed scholarship program. This year the company sponsored champion tennis player, Ille Van Engelen. This 6' 3" Netherlands Native who majored in Consumer and Family Financial Services ended his career at the Ohio State University this year. Van Engelen lists winning the 2010 Dutch Championship as his biggest sports thrill. The son of Rob and Ellen was selected to the 2011 First Team All-Big Ten, second team honoree in 2012.
This skilled tennis player helped propel the then fourth ranked team to win its seventh Big Ten tournament title in eight years. The Big Ten Title win gave the team an automatic bid into the NCAA championships. In the NCAA tournament the No. 5 ranked Buckeyes faced No. 1 UCLA in the Championships Semifinals. Unfortunately, the Buckeyes lost in a real heartbreaker at the Khan tennis Complex in Urbana, IL. The Buckeyes concluded the 2013 season 35-3 overall and Big Ten regular-season and tournament champions.
A.D. Farrow Co. is proud to have played a role in the advancement of a student athlete each year and is particularly proud to have had the honor of sponsoring Van Engelen. A.D. Farrow Co. owner, Bob Althoff, stated that the company does not pick a particular athletic program in which to sponsor an athlete. The designation of the student athlete that is to receive the yearly A.D. Farrow Co. scholarship is determined entirely by the University. America's Oldest Harley Dealer is currently contributing funds to permanently endow a second scholarship.