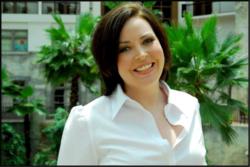 SAN FRANCISCO, CA (PRWEB) May 30, 2013
Bottle Rocket today announced that Lauren Hasson has been selected by British Airways and its partners to participate in UnGrounded, the company's inaugural Innovation Lab in the Sky. The group will work on global challenges at 30,000 feet, aboard a private British Airways flight from San Francisco to London on June 12, 2013. Hasson will join more than 100 industry leaders and change agents, to collaboratively address the global STEM skills gap with the goal of accelerating global innovation.
Participants were nominated by global technology leaders in both Silicon Valley and London, with primary input from the UnGrounded advisory board. The advisory board is made up of senior representation from RocketSpace, Silicon Valley Bank, Andreessen Horowitz, Stanford University and Innovation Endeavors. All participants have been hand-selected to participate based on their experience and passion for driving the acceleration of innovation within developed and emerging communities across the world.
Hasson said, "I'm so honored to be an invited participant of this extraordinary event and to have the chance to collaborate with such outstanding innovators. It truly is a unique opportunity and I'm looking forward to the experience and more importantly, what comes out of it!"
Hasson is an iOS software engineer at Bottle Rocket and is co-founder of Women in Wireless Dallas. As an active member of the national software development community, Hasson participates year-round in hackathons and startup competitions where she has served as a technical mentor. Sharing Bottle Rocket's strong passion for software development, Hasson is motivated by knowledge-sharing challenges in which she can contribute to innovation and further perfect her craft.
Upon landing, the ideas and solutions created on the flight will be received by the United Nations ITU Secretary General at the DNA Summit, in association with the G8 Innovation Conference, in London.
"As we're approaching the launch of UnGrounded on June 12, we're excited to see the top visionaries and leaders from Silicon Valley bring their distinct perspectives and skills together to tackle the critical global challenge around the STEM skills gap," said Simon Talling-Smith, EVP of the Americas for British Airways. "Face-to-face connection ignites the exchange of amazing ideas, and by bringing these bright minds together, British Airways and our partners, the United Nations and DNA Summit, look to spark and accelerate innovation to affect global change."
Bottle Rocket (http://www.bottlerocketapps.com) is a full-service mobile solutions provider, focused on creating handcrafted apps for the world's most discriminating brands. Since its founding in early 2008, Bottle Rocket has developed more than 100 iPhone, iPad and Android apps for leading brands such as A&E Television, NPR, Starwood Hotels & Resorts, Food Network, Scholastic, ESPN, TBS, TNT, National Geographic, Discovery Channel, BET, SPIN Magazine, Bravo Television and American Express. The company's apps have won numerous industry accolades including multiple Apple Hall of Fame awards, and frequently appear at the top of their categories on the App Store. The team of senior strategists, architects, developers and artists work their magic from the company's offices in Dallas, Texas.
For more information visit http://www.ungroundedthinking.com, like us on Facebook, or follow us @British-Airways and join the #BAInnovate conversation.