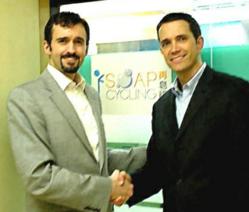 Asian hotels now have the opportunity to recycle their used soap, and we're significantly increasing the amount of new soap available to global health programs.
Atlanta, GA (PRWEB) May 30, 2013
The Global Soap Project has partnered with Hong Kong-based Soap Cycling to expand the vision of hotel soap recycling to Asia through a new strategic alliance.
The Global Soap Project recycles partially-used soap from a broad network of more than 1,100 hotels throughout North America. The new soap is distributed through partnerships with leading global health organizations to humanitarian relief efforts and hygiene education programs worldwide. To-date, over 300,000 pounds of new soap has been distributed to targeted communities in 29 countries spanning four continents, and more than 250,000 pounds will be distributed in 2013.
To expand this soap recycling model to Asia, the Global Soap Project has recently partnered with Soap Cycling, a Hong Kong based charity that uses a similar model of hotel soap recycling and distribution to targeted global health programs in Asia. Founded in 2012, Soap Cycling is unique in that it also focuses on university student engagement. The organization's work is carried out primarily through a team of dedicated student interns, providing valuable work experience while keeping operational costs low.
"This partnership marks a major step forward," noted Sam Stephens, Executive Director of the Global Soap Project. "Asian hotels now have the opportunity to recycle their used soap, and we're significantly increasing the amount of new soap available to global health programs. In addition, we're able to further decrease our collective environmental footprint by focusing recycling and distribution efforts in a geographically strategic manner. We're proud to partner with Soap Cycling, and we're looking forward to great things to come."
"We at Soap Cycling could not be more excited about this alliance," stated David Bishop, Founder and Chairman at Soap Cycling. "Global Soap is, in our mind, the best in the world at recycling and distributing soap. We have a lot to learn from them, and also believe that our unique perspective and business model will be an asset to their operations. Most importantly, this alliance means that communities throughout Asia will have greater access to life-saving soap, simultaneously saving lives and reducing the environmental impact this soap can have when it is simply discarded."
The Global Soap Project is a nonprofit organization, founded in 2009, with a dual mission of reducing waste and improving global health. They work with hotel partners to collect used soap to be reprocessed into new bars of soap. The organization also partners with a network of global health and humanitarian organizations to distribute the life-saving soap and provide hygiene education to those in need around the world. Global Soap Project is headquartered in metropolitan Atlanta, Georgia and is recognized by the U.S. Internal Revenue Service as a 501(c)3 organization. For more information about the programs and mission, please visit http://www.globalsoap.org.
Established in 2012, Soap Cycling Limited is the first non-profit soap recycling organization in Asia. Headquartered in Hong Kong, and registered as a charity under s.88 of The Inland Revenue Ordinance, they have a three part mission: improving sanitation and hygiene, advocating green living and waste reduction, and providing university leadership education. The organization is largely operated by university student volunteers. For more information and updates, please visit http://www.soapcycling.org.