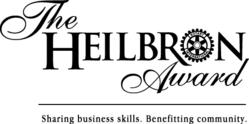 Our team is passionate about being involved in San Diego's community service sector and are truly pleased to be named a finalist for the Heilbron Award. Chad Buckmaster, CEO
San Diego, CA (PRWEB) May 31, 2013
Processing Point, a leading provider of cloud-based workforce management solutions and time and attendance software, has been named a finalist for the 2013 Heilbron Award.
The Heilbron Award is a service award that is given out by the Rotary Club of San Diego and the San Diego Business Journal to celebrate companies that exhibit the "pay it forward spirit" by engaging in community service and giving back to the community.
"Processing Point is fortunate to be part of the San Diego community. It truly is one of the best places to live and work, which is why we do what we can to contribute and make it even better," said Chad Buckmaster, Processing Point CEO. "We have always been committed to helping others and are humbled to be honored for doing something that is already so rewarding for us."
This is the third year the Rotary Club of San Diego and the San Diego Business Journal have given out the Heilbron Award. They will recognize all finalists, including Processing Point, during a special awards ceremony at an invitational luncheon on June 6, 2013.
In addition to making headlines for its community service ventures, Processing Point has been recognized for its uAttend™ Employee Management System, which is one of the most effective workforce management solutions available for today's businesses. uAttend offers a growing line of automated employee time tracking solutions including biometric time clock systems, RFID and proximity card readers and mobile applications.
As a leading provider of small business service solutions, Processing Point will continue to do what it can for others, and looks forward to being a part of the San Diego business community for many years to come.
"Whether this is volunteering for a food drive, donating to a non-profit fundraiser, or sponsoring a charity event, our team is passionate about being involved in San Diego's community service sector. We are truly pleased to be named a finalist, and are happy to be in a position where we can make a difference in the community," Buckmaster said.
If you would like more information about Processing Point or uAttend, please call 1-800-518-8925 or visit the corporate website at http://www.uattend.com. uAttend is located at 2796 Loker Ave., Suite 111, in Carlsbad, CA.