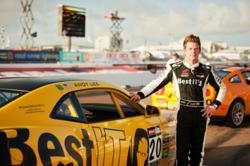 We've got our sights set on the checkered flag in Detroit. - Harry Curtin, BestIT CEO and race team captain
Phoenix, AZ (PRWEB) May 30, 2013
The BestIT Race Team is just days away from putting the rubber to the road for the fourth stop in the Pirelli World Challenge series, the Detroit Belle Isle Grand Prix, taking place in Detroit May 31-June 2. The team, sponsored by BestIT – a Phoenix-based services and solutions provider, and the Bob Bondurant School of High Performance Driving – returns to the Motor City to claim its second annual wins in the GTS division.
"We've dialed in the BestIT Camaros, logged numerous hours at Bondurant and we are confident from our podium finish in Austin – now we've got our sights set on the checkered flag in Detroit," said Harry Curtin, BestIT CEO and race team captain. "With this momentum, and our previous success, we are ready to drop the hammer in Detroit."
Taking the Motul pole on May 18, BestIT's Andy Lee took his first GTS win of the series during the Circuit of the America's in Austin on May 19. It was Lee's fifth-career Pirelli World Challenge win. Lee turned the race's fastest lap on lap six, a record 1:40.720 (82.208 mph).
The Detroit Belle Isle Grand Prix features a 2.3-mile track, which Lee swept in 2012 for race one and race two. All eyes will be on the No. 20 Camaro in the Chevrolet's hometown for the race.
Watch live streaming coverage of Pirelli World Challenge races from the Detroit Belle Isle Grand Prix, June 16 at 5:00 p.m. EST. Click http://www.world-challenge.com for details.
Visit http://www.bestit.com for information on how BestIT innovates to enhance business growth on technological differentiation.
About BestIT
BestIT is a services and technology provider delivering high-value, client-focused results to enterprises in the U.S. and abroad. BestIT works with organizations to create roadmaps designed to achieve competitive advantages by applying unique approaches to complex business challenges. The company helps reinstate the business dialogue between business and technology. For more information, visit: http://www.bestit.com.